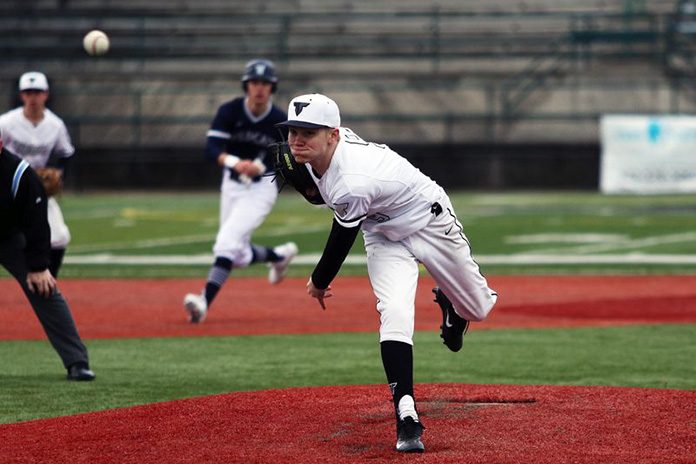 Blue Mountain Community College Head Baseball Coach Brad Baker has had a busy off-season. After a successful 2018 season that saw the Timberwolves pick up 20 wins, Baker hasn't slowed down the momentum, and has signed seven players in the early signing period for the 2019-2020 season.
"I'm excited about the seven guys that we have signed to this point already," Baker said. "This class, added to our extremely strong freshman class, should be a great mix for the 2020 season. These student-athletes have proven themselves at the high school level to excel on the baseball field and in the classroom and I'm excited to see how they excel at the collegiate level in both areas. We still have a few spots to add to finish up the 2019 class, but we are close to finished."
Signees
Tomoyuki Hori – Sunset High School, Portland. "Tomoyuki is a middle infielder with great hands and quick feet, who can also swing the bat well," Baker said.
Loggan Davis – Sunset High School, Portland. "Loggan is an athletic outfielder who can play all three outfield spots and can also contribute on the mound," Baker said.
Jayden Robertson – Rocky Mountain High School, Meridian, Idaho. "Jayden comes from one of the top programs in Idaho. He has the ability to be a top notch hitter in the NWAC. He has great strength and power at the dish and can also help out on the mound for us," Baker said.
Jake Mullholland – Kamiakin High School, Kennewick, Wash. "Jake is a top notch catcher and can swing a quality bat from the left side, which is a rare find. He also has the athletic ability to play in the outfield," Baker said.
Chris Large – Pendleton High School, Pendleton. "Chris is a big body pitcher who has continued to improve under the quality coaching staff at Pendleton High School," Baker said.
Zack Henrichs – Irrigon High School, Irrigon. "Zack is a quality third baseman and a solid hitter, is very passionate about baseball, and earned some all-state honors last season in a competitive program at Irrigon," Baker said."
Sam Gerkman – Tigard High School, Tigard. "Sam is a quality left-handed pitcher named to the Three Rivers All Conference second team last season, which is one of the top 6A leagues in Oregon," Baker said.
BMCC baseball kicks off the 2019 season Saturday, February 23rd at Pacific University. For a schedule of all events please visit the BMCC website.