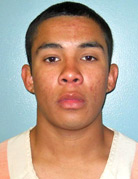 Police arrested a Hermiston transient early this morning on burglary and theft charges after police found him hiding inside a cabinet in Rocky Heights Elementary School.
Around 3:25 a.m. this morning, Hermiston police responded to an alarm going off at Rocky Heights. An officer, along with a Umatilla County Sheriff's deputy, searched the building after finding an open window.
Alexandro Magana, 18, was located hiding inside a cabinet, said Hermiston Police Chief Jason Edmiston. Magana was discovered with computer equipment belonging to the school. He was taken into custody, processed at the Hermiston Police Department, and later lodged at the Umatilla County Jail in Pendleton on charges of second-degree burglary and second-degree theft.