A Two Rivers Correctional Institution (TRCI) inmate died on Sept. 3, according to the Oregon Department of Corrections.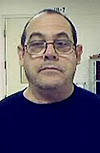 Stephen Reed Risch died in the infirmary while on hospice care. As with all in-custody deaths, the Oregon State Police have been notified.
Risch entered DOC custody on March 1, 2011, from Marion County. His earliest release date was March 10, 2052. Risch was 68.
TRCI is a multi-custody prison in Umatilla that houses approximately 1,800 adults in custody.