The Umatilla County Sheriff's Office is requesting the public's assistance in locating the next of kin of a woman found deceased near Ukiah.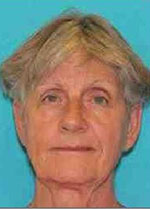 On July 9, deputies responded to a report of a deceased person in the Frazier Campground near Ukiah and located the body of Barbara Lee Soha, 73, inside a tent.
According to the sheriff's office, Soha was previously associated with the Salt Lake City Utah area, however, all the addresses on her identification were determined to be obsolete and attempts to locate and notify the next of kin have been unsuccessful.
If anyone is familiar with this individual, call the 24-hour dispatch center at 541-966-3651 and reference Case #22-0961. The sheriff's office stresses to not post any information on Facebook.