A Umatilla prison inmate died in custody on Sunday.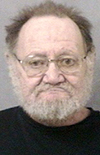 The Oregon Department of Corrections (DOC) reported that Richard Lynn Breneman died the morning of Oct. 6. Breneman was incarcerated at Two Rivers Correctional Institution (TRCI) in Umatilla. As with all in-custody deaths, the Oregon State Police have been notified, and the Medical Examiner will determine cause of death.
Breneman entered DOC custody on July 29, 2011, from Crook County with an earliest release date of Aug. 25, 2020. Breneman was 79.
TRCI is a multi-custody prison in Umatilla that houses approximately 1,800 adults in custody.