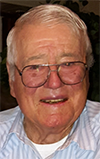 The venue for the Celebration of Life service for John Walchli has been changed and will now be held at Hermiston High School.
The longtime area farmer died on Sept. 26 at the age of 84.
The celebration had been set for the Eastern Oregon Trade and Event Center, but will now take place at Hermiston High School gym on Saturday, Oct. 13 at 1 p.m.