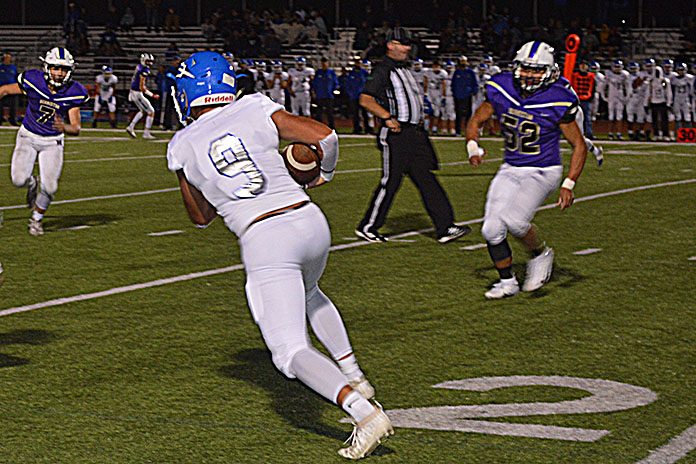 The Walla Walla Blue Devils put a damper on Homecoming night for Hermiston with a 14-3 victory over the Bulldogs Friday night at Kennison Field.
On a cold and windy night that included some rain, neither team could muster much in the way of offense. The night's only real fireworks came during the halftime show.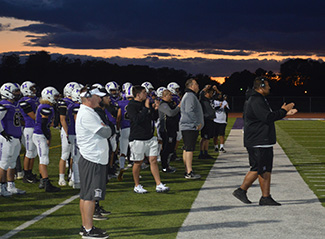 The wind played havoc with the kicking game on Friday. After trading punts in the first quarter, both teams missed field goal attempts in the second and went into the locker room scoreless at halftime.
The Bulldogs began to muster some offense after receiving the second half kickoff. A 17-yard run by Daniel Faaeteete helped set up the first score of the night, a 20-yard field goal by Trevor Wagnor.
The Blue Devils answered right back with a 62-yard drive that ended with a 1-yard touchdown run by quarterback Ryan Martuscelli to give Walla Walla a 7-3 lead with just over 5 minutes left in the third quarter.
With less than 3 minutes gone in the fourth quarter, Walla Walla extended the lead to 14-3 on a 6-yard touchdown run by Jakob Humphrey.
A late Hermiston drive ended on an interception, sealing the win for Walla Walla (2-2).
The loss drops the Bulldogs to 0-4 on the season. Quarterback Sam Schwirse finished the night 22-for-27 and 183 yards. Faaeteete led Hermiston rushers with 66 yards on 12 carries. Ryan Arnold led all tacklers with 14, including 11 solo.
Hermiston hits the road next week for a rare Thursday game against Southridge at Lampson Stadium in Kennewick. Walla Walla travels to Richland on Friday to take on the Bombers.