Warren H. McCoy died Monday, June 3, 2013 at Good Shepherd Medical Center in Hermiston at the age of 92.
He was born May 17, 1921 at Imbler to Rufus M. & Ruth M. (Graybeal) McCoy.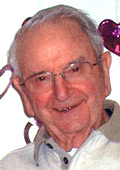 He was raised in Imbler and graduated from Imbler High School. He served in the U.S. Navy during World War II on the USS Canberra. He married Frances Betty O'Rourke on March 6, 1945. They lived in Boston, Massachusetts for 7 months before moving to Irrigon, Oregon where they have lived since. Warren worked for the Army Corps of Engineers as a Crane Operator until his retirement. He was a member of the Hermiston VFW Desert Post #4750 and was a former state commander, a member of the Irrigon City Council, a Morrow County School Board member, a former Morrow County Commissioner and he attended the Columbia View Community Church in Irrigon.
Warren enjoyed traveling, spending time with his family, gardening, watching old western movies, and loved watching high school sports. He was always at the games supporting his grandchildren through the years.
He is survived by his daughter, Debbie McCoy-Burns of Irrigon; son, Roger "Mike" McCoy of La Grande; seven grandchildren; and 15 great-grandchildren.
He was preceded in death by his wife of 67 years Frances McCoy in December of 2012; daughter, Susan Loraine McCoy Simmons in 2008; and brothers, Bennie, Chase and Mac McCoy; and sister, Birdie Stewart.
Funeral Services will be held on Saturday, June 15, 2013 at 2 p.m. at Columbia View Community Church in Irrigon. Burial with military honors will follow at the Desert View Memorial Cemetery in Irrigon.
Memorial contributions may be made to the American Legion Post 37, in Irrigon, Flag Project.
Please send condolences at burnsmortuaryhermiston.com
Burns Mortuary of Hermiston is in care of arrangements.