Gov. Kate Brown announced that Umatilla County will be returning to baseline phase, effective today, July 31, at noon.
In the baseline phase, the following guidelines apply:
All individuals should minimize all non-essential travel and stay home as much as possible
All businesses and non-profits must implement work-from-home or telework policies for employees to the maximum extent possible
Gatherings Size Limits:
Civic, cultural, and faith-based gatherings are limited to 25
All indoor and outdoor social gatherings are limited to 10
Grocery stores and retail, pharmacies, banks and credit unions, museums, and gas stations remain open
Restaurants must move to take-out or delivery only
Gyms, malls, venues, indoor and outdoor entertainment facilities, fraternal organization facilities, and personal services businesses must close
Recreational and youth sports are no longer permitted
Pools, spas, sports courts, and playgrounds must close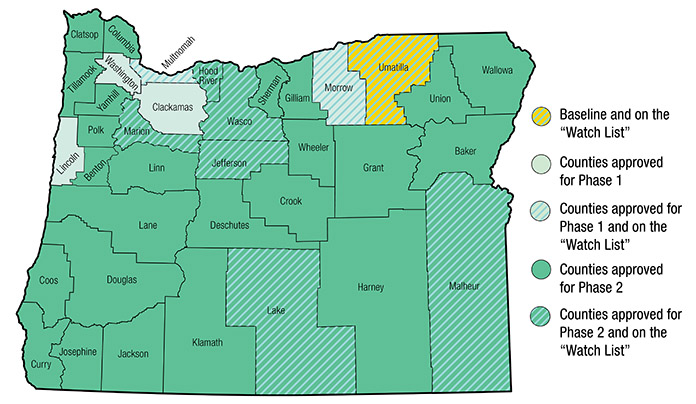 This information was shared by the Umatilla Electric Cooperative Business Resource Center.