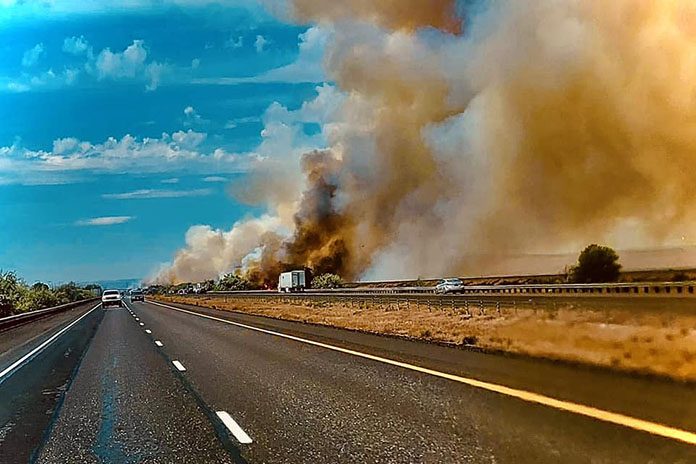 Multiple wildfires broke out Sunday afternoon near Boardman with windy conditions causing the fires to burn more than 3,000 acres.
The Boardman Fire & Rescue District was dispatched around 12:15 p.m. following reports of several wildfires on westbound Interstate 84 near Main Street in Boardman
Upon arrival it was discovered that the fires extended from Main Street to Three Mile Canyon Road – just over 10 miles of open fire line.
I-84 was closed down for several hours from milepost 139-164
Multiple agencies assisted with fighting the fire including Umatilla County Fire District #1, Umatilla Rural Fire District, Irrigon Fire Department, Oregon Fish & Wildlife, the Oregon Military Department, Heppner Fire Department, Lexington Fire, Ione Rural Fire and the Echo Fire Department.
Boardman Fire & Rescue gave a special thanks to the Boardman Fire Corps for preparing 60 meals for the firefighters on the line.
A unit was on the scene throughout the night keeping on eye on the fire as it smoldered into the early-morning hours.
No injuries were reported.