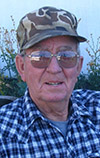 Wilmer W. Spurlock of Echo passed away in Echo on Nov. 23, 2020 at the age of 92.
He was born on Feb. 23, 1928 in Paducah, Texas to Joseph and Martha Fletcher Spurlock.
Wilmer lived in Paducah and Childers, Texas as a child, where he attended his schooling. He married Clara Jane Crabtree in Texas on July 8, 1946.
In the early 1950s, the couple moved to Oregon. They lived in many Oregon communities such as Reedsport, Burns and Lebanon, to name a few. They moved to Echo in the late 1990s, where he had resided since. Wilmer worked as a stock buyer for lumber mills throughout his career.
Wilmer enjoyed woodworking, camping, hunting, fishing and being in the outdoors. He enjoyed tinkering with projects, was a good mechanic, and loved spending time with his family.
He is survived by sons, Jack (Ronnie) Spurlock, Bob (Karen) Spurlock, Jim Spurlock and Mike (Jessica) Spurlock; daughter, Teresa (Dave) Gunn; many grandchildren and great grandchildren; and many extended family members.
He was preceded in death by his wife, Clara; his parents; and three sisters and two brothers.
A private family gathering was held.
Family suggests memorial contributions be sent to Parkinson's research.
To leave an online condolence for the family, please go to burnsmortuaryhermiston.com.
Burns Mortuary of Hermiston is in care of arrangements.