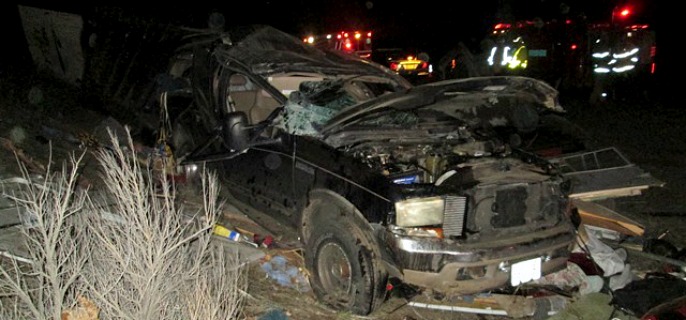 A 14-year-old Milton-Freewater boy was killed Thursday evening in a single-vehicle rollover crash on Interstate 84 at Ladd Canyon.
According to the Oregon State Police (OSP), the accident occurred around 7 p.m. when a 2000 Ford Excursion pulling a travel trailer, being operated by Todd M. Schroeder, 54, of Milton-Freewater, lost control of his 2000 Ford Excursion at milepost 277. The Excursion rolled over into the center median.
The center seat passenger, Fisher Schroeder, 14, was ejected from the vehicle and was pronounced dead at the scene. The front seat passenger, Jerry W. Schoeder, 73, of Milton-Freewater, was transported via air ambulance to Legacy Emanuel Hospital in Portland with serious injuries. The driver and two other juvenile passengers suffered minor injuries and were treated at Grande Ronde Hospital in La Grande. Information about safety belt use is still being investigated.
The OSP was assisted by the Oregon Department of Transportation, Union County Sheriff's Office, Island City Rural Fire Department and the La Grande and North Powder ambulance. The cause of the crash is under investigation.