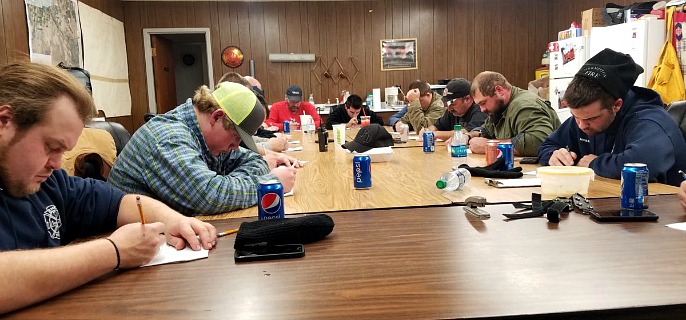 Fifteen volunteers have completed a 50-hour Emergency Medical Responder (EMR) course put on by Umatilla County Fire District #1 (UCFD 1) in conjunction with the Echo Fire Department.
Students were from the Echo Fire Department, UCFD 1, and the Umatilla Fire District. The students have put in training two evenings per week and several Saturdays. The training will allow the students to become licensed EMRs by the state of Oregon.
"Most people do not realize the time commitment and dedication that our members go through to be able to provide such vital services to the community," said lead instructor Rob Tooley.
An EMR is one step below an EMT and will be able to provide basic treatment and care to patients on emergency scenes until an ambulance arrives, and provide additional manpower to help ambulance crews.
"Placing EMTs and Paramedics in all parts of our rural county is not possible, and the EMR course has provided critical lifesaving training to our first responders," said J.W. Roberts, UCFD 1 EMS coordinator.
The EMR course was funded by the Apple a Day Grant Program under the Oregon Office of Rural Health. These funds covered the cost of most of the books and instructors.