A Pendleton man and Pilot Rock man have been indicted on multiple counts involving poaching of deer and elk following a more than year-long investigation.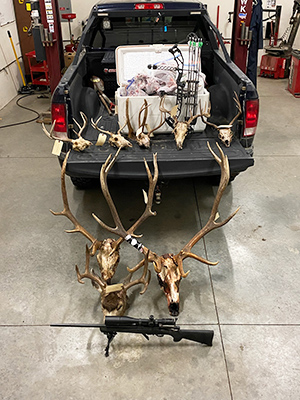 The Oregon State Police Fish & Wildlife troopers from the Pendleton Area Command received information on several individuals who were unlawfully taking big game animals. In the summer of 2020 troopers began gathering information and evidence over the following year, which led to the service of a search warrant at a Pendleton residence in December of 2021.
Evidence seized from the search warrant included six sets of deer antlers, and three sets of elk antlers, including a 7×7 trophy bull elk, a rifle, a bow, and meat. The investigation and search warrant led to the indictment of Walker Erickson, 28, of Pendleton, and Hunter Wagner, 23, of Pilot Rock.
In October, Erickson was indicted on the following:
3 Counts of Unlawful Take of a Cow Elk
4 Counts of Unlawful Take of a Whitetail Buck
2 Counts of Unlawful Take of a Mule Deer Buck
4 Counts of Unlawful Take of Bull Elk
3 Counts of Waste of Game
1 Count of Unlawful Possession of Big Game
1 Count of Hunting While Criminally Trespassing
1 Count of Hunting on Another's Cultivated or Enclosed Land
1 Count of Hunting from a Motor Vehicle
2 Counts of Tampering with Physical Evidence
Also in October, Wagner was indicted on seven counts of Counseling, Aiding, or Assisting in Another's Unlawful Take of a Big Game Animal.
The Oregon State Police is thanking the public for the tips regarding this large and extensive investigation. This case is being prosecuted by the Anti-Poaching Prosecutor with the Department of Justice in coordination with the Umatilla County District Attorney's Office.