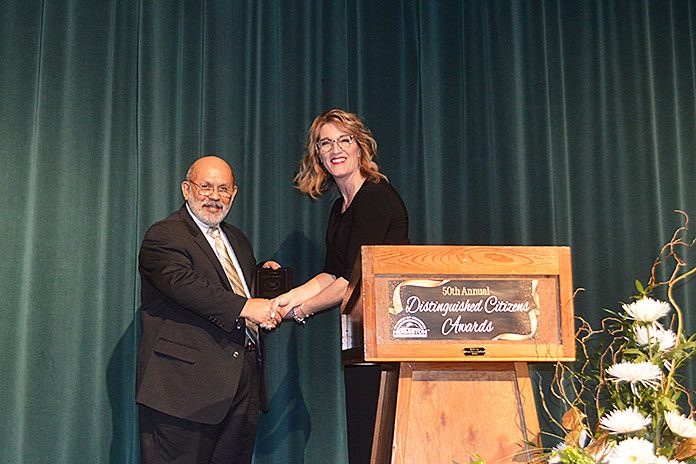 Victor Vasquez, a 1968 Hermiston High School graduate, has been selected as the 2020 Hermiston High School Distinguished Alumnus.
Hermiston School Superintendent Tricia Mooney announced the selection of Vasquez during the Distinguished Citizens Awards Banquet on Wednesday.
Vasquez is currently the interim executive director for Micro-Enterprise Resources Initiatives and Training (MERIT). He is an accomplished and dedicated federal, state, and local government executive with comprehensive experience in public service, previously working as the director of consulting services for Nonprofit Association of Oregon; as the chief executive officer for Valley Initiative for Development and Advancement; and founder, president and CEO of Arroba Consulting Group.
Vasquez has served in the administrations of both President Bill Clinton and President Barack Obama. Under President Clinton, he served as the deputy administrator for United States Department of Agriculture, Rural Development, where he launched the Rural Empowerment Zone and Enterprise Communities. He then served as the deputy assistant secretary of defense in the Department of Defense for Military Community and Family Policy, for which he was awarded the Secretary of Defense National Medal for Outstanding Public Service.
Vasquez's success in developing national and state-level strategies for revitalizing struggling economies, meeting state-wide economic development goals, and achieving growth objectives in both the public and private sectors were key to his presidential appointment to senior executive service, the highest level in the federal system, at United State Department of Agriculture, and appointments to the Commonwealth of Massachusetts Department of Transitional Assistance and Washington State Community, Trade, and Economic Development Division.
Originally from Eagle Pass, Texas, Vasquez worked his way through the fields of the Pacific Northwest as a migrant and seasonal farmworker to attend the University of Oregon, from which he graduated Phi Beta Kappa. He holds a Master of Public Administration from Harvard University's John F Kennedy School of Government and has completed coursework toward a Ph.D. in Community and Economic Development through Southern New Hampshire University.
During Wednesday's awards banquet, Vasquez thanked the teachers who taught him back in the 1960s, saying "That's how I was inspired."
As for his time in Hermiston, he told the audience on Wednesday that after he came to Hermiston, remaining family in Texas jokingly said he was no longer "one of us." That, he said, was alright with him.
"I'm one of you and I'm very proud to be one of you," he told the crowd.
Vasquez will deliver the keynote speech during the high school's commencement ceremony scheduled for June 4, at 7 p.m., at the Toyota Center in Kennewick, Wash.