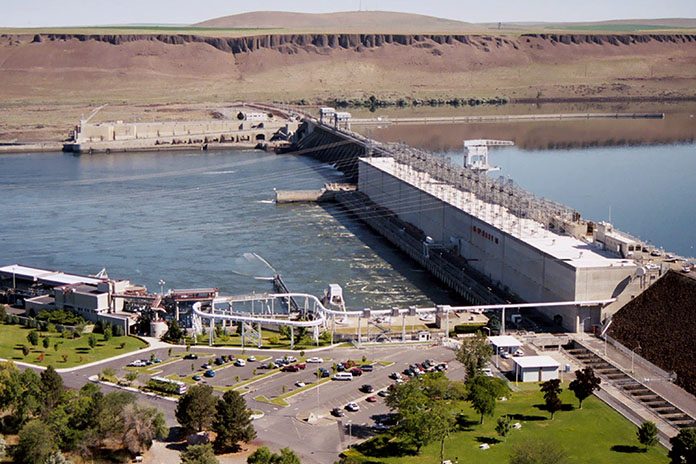 The U.S. Army Corps of Engineers' Walla Walla District on Wednesday awarded a $321.3 million contract to Alstom Renewable US LLC to design, manufacture and install 14 turbines at the McNary Lock and Dam  near Umatilla.
This award culminates three years of research, planning, design and acquisition to replace the existing turbine runners and associated ancillary equipment. The goals of this re-capitalization and modernization effort include increasing: fish survival, hydraulic capacity, turbine efficiency operational flexibility and improving turbine operations reliability.
McNary Dam, a multi-purpose project authorized by the Rivers and Harbors Act of 1945, was commissioned in 1954. The powerhouse consists of fourteen 70,000-kilowatt hydroelectric generator units, providing 980-megawatts of powerhouse capacity. One megawatt serves approximately 700 homes. At full capacity, McNary's powerhouse can supply enough power for about 686,000 homes.
The 14 main unit turbines have been in operation for more than 62 years. They are projected to continue to operate on average for another seven years until the new turbines are manufactured and installed.
This requirement is fully funded with non-appropriated funding provided by the Corps' partner and stakeholder, Bonneville Power Administration (BPA). Re-capitalization projects such the McNary turbines are a capital investment for the Administration, as they receive power sales revenue from the generation of power by the McNary hydropower facility. These revenues from McNary Dam range from $150 million to over $300 million per year depending upon rates and water flow, which equates to an average per unit revenue generation of just over $16 million per year.
"This Contract Award is a significant accomplishment for our district and the region," said Walla Walla District Commander Lt. Col. Damon Delarosa. "The re-capitalization effort at McNary Lock and Dam is one of my top priorities for 2018. The team responsible for reaching this milestone spanned multiple federal agencies; their professionalism and dedication were evident in all they have accomplished to date and I'm sure will continue as they begin the design efforts for the new turbines. Once completed, the improvements recognized from this project for reliability, operational flexibility and fish passage will be substantial and measurable. We look forward to working with Alstom Renewable Energy on this critical infrastructure effort in the coming months and years," he said.
Alstom Renewable US LLC, a General Electric Company, is no stranger to hydropower modernization, bringing worldwide experience in the design, manufacture and installation of hydropower turbines. Their most recent work in the Pacific Northwest includes replacing turbine runners at Chief Joseph Dam for the U.S. Army Corps of Engineers, which is nearing completion.
"Alstom will work collaboratively with the Corps of Engineers through an iterative design process to develop the new runners and associated equipment," said Corps Project Manager Shawn Nelson. "Engineers and biologists from the Walla Walla District, the Corps of Engineer's Hydro-Electric Design Center (HDC) in Portland, and the Corps's Engineer Research and Development Center (ERDC) in Vicksburg, Miss., will support this design process, progressing from computer-based models to physical modeling. After the design is completed, the turbine components will be manufactured and then installed two units at a time over the course of seven to eight years. The contract is expected to be completed in approximately 14 years," he said.