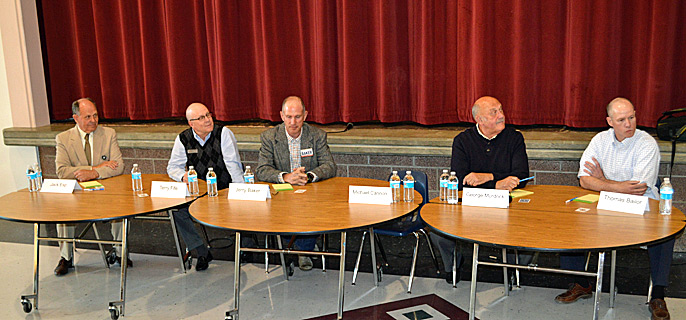 Six men are running for Umatilla County Commissioner, but only five showed up in Umatilla for Monday night's debate sponsored by the Umatilla Chamber of Commerce and the League of Women Voters.
Michael Cannon's seat went unoccupied and Chamber Director Karen Hutchinson-Talaski said she did not know why the candidate did not appear.
"He just didn't show up," she said.
The five who did, however, took questions from the audience for two hours and covered a wide range of issues. The Umatilla County Sheriff's Department was a favorite topic among the candidates.
"We appear to be way under-staffed in the sheriff's department," said Jerry Fife of Pendleton. "Morrow County has 10 guys on patrol, in Umatilla County we have seven. There's 75,000 people in Umatilla County, there's 12,000 people in Morrow County. The only way we can provide new positions is to have a bond issue to raise more money to hire more people. It's up to the citizens of Umatilla County to pass that initiative."
Echo's Jack Esp said the county needs to find a way to more effectively treat the mentally ill.
"Most of the crime element has a mental problem," he said. "They need treatment." George Murdock agreed, saying he supports the creation of a facility specifically aimed at housing and treating the mentally ill.
"It's essential," he said.
The candidates also addressed the issue of economic development in Umatilla County. Jerry Baker, who lives in Athena, said the county could do more to attract tourism.
"Tourism is a great way to bring people in so they can enjoy what we have and then they can go on their way," he said.
Pendleton's Tom Bailor said tourism would not only help the county, but could also be a boon to the city of Umatilla.
"There's great tourism potential in Umatilla," he said. "Umatilla is our waterfront city."
There was general agreement among the candidates that Oregon needs to pull a greater share of water from the Columbia River.
"It's a travesty that the state of Washington takes such a huge share of water while Oregon is reluctant to take an equal share," said Murdock. The Pendleton resident who is currently serving as interim superintendent of the Douglas Education Service District said the county should "do everything we can to take more water out of the Columbia and enhance our agriculture industry."
Bailor called water "the big issue." He supports efforts to pull more water out of the Columbia to aid farmers.
"That seems like a no-brainer when you see how much water Washington takes out," he said.
When it comes to wind power, Baker, a wildlife biologist, said he has concerns about wind projects' environmental impact, noting they are responsible for the deaths of migrating bats.
"In Umatilla County, I think the wind boom is over," he said.
Esp said he supports wind power, but does not support public subsidies of wind projects.
"I'm for wind farms on private land financed by private money," he said. Murdock and Fife also said he has issues with subsidizing wind projects.
"I'm skeptical of any type of business where you have to subsidize it heavily," Fife said.
Bailor, however, supports public subsidies of wind projects.
"Like hydro, which was massively subsidized, wind, just like all other forms of energy, should be subsidized to get it off the ground."
The candidates were asked if they supported the idea of re-structuring county governance by creating a county manager with the commissioners serving part-time in the manner of city councils.
"I think the county commissioner structure we have now works really well," Baker said. "A county manager would cost more money and we don't have that right now."
Esp said the current commissioners work as many as 50 and 60 hours per week and he doesn't feel the job can be done effectively on a part-time basis.
Fife said he had no desire to quit his current job as a full-time real estate appraiser to work part time.