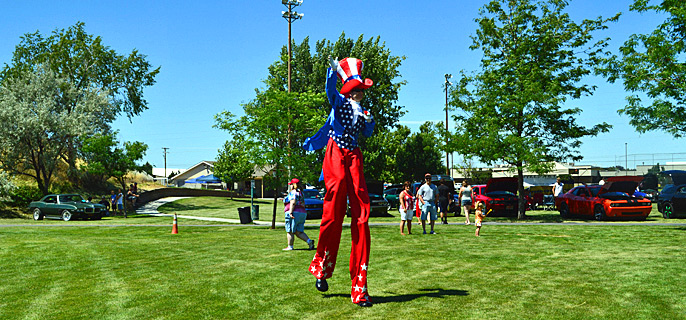 America turned 237 on Thursday and towns around Eastern Oregon played host to the big event.
In Hermiston, an all-day patriotic birthday bash was held at Butte Park with music, classic cars, games, magic shows, clowns, food and beverages, and it was capped off with a fireworks show after the sun went down.
Over in Boardman, the town's Independence Day celebration got off to an early start with a Scout breakfast. A Fun Run/Walk took place in the morning along with a parade. Other events and activities included a talent show, puppet show and live music by Tony Madrigal. Boardman's celebration also culminated in a fireworks show.
Stanfield's Fourth of July included a parade, a hot dog eating contest and games and activities for kids.
Back at Butte Park, there were plenty of sights to see, including a classic car show. Jerry Wells' bright red Chevy Bel Air caught the attention of more than a few admiring eyes. And even though it was one of the show's standout cars, Wells said showing it off is not what he bought the car for.
"I didn't buy it for a show car," said the retired Kennewick man. "I bought it to drive. I take it on a cruise a couple times a week." Like a lot of men his age, Wells said he bought the car because of the nostalgia factor. He graduated from high school the year the car came out – 1957.
Another attention-getter on Thursday was Keith Ramsay. He was impossible to miss, standing 10 feet tall on stilts and dressed up as Uncle Sam. The Richland firefighter, who goes by the name Stretch when he's on his stilts, strolled throughout the park waving to people and having his picture taken. Kids came running to him to say hi.
"Give me a high five," he said to one boy, who jumped as high as he could to reach Stretch's hand. One little girl, however, wasn't so sure she wanted to get too close to the imposing figure. Her grandmother, Carol Green of Hermiston, tried to coax Jacee, age 2 ½, to have her picture taken, but Jacee wasn't having any of it.
"Kids that age either love me or don't want anything to do with me," said Ramsay. He didn't, however, spend his day just strolling around waving to the crowd. Ramsay also put on a show in the evening where he drew a large crowd performing ventriloquism as well as some magic geared toward the younger crowd.
Although Mother Nature cooperated Thursday and kept the temperature down to a very reasonable 90 degrees, there were still plenty of kids taking advantage of the opportunity to cool down at the dunk tank. Eight-year-old Tucker Teel of Hermiston took his spot on the board inside the tank waiting to see if he'd be plunged into the water.
He was.
He said it was fun before quickly adding that he had no plans to do it again.
"It's cold," he said.
For those who wanted to cool down, but stay dry, there were plenty of options. The Tiki Hut was a popular stop, as evidenced by the line of people waiting to get their hands on a cold treat.
"Business has been great," said owner Isabel Santos, who, along with her son, Manuel, was serving up shaved ice. Manuel, who recently graduated from Hermiston High School, has worked at the Tiki Hut for the past three summers and attributed their steady stream of customers on Thursday to the fact that they have a loyal customer base.
"We have a pretty familiar clientele," he said.
Later in the evening, the Hermiston Parks and Recreation Department, which put on the day's events, held a pool party at the Hermiston Aquatics Center. There people enjoyed the pool, some games and a barbecue dinner.
Back at Butte Park, a watermelon-smashing contest drew about 10 contestants. Spectators kept a safe distance to keep from getting sprayed by the flying melon pieces. Umatilla's Don Ferguson was judged the winner with a mighty swing of an oversized wooden sledge hammer that rendered the defenseless watermelon a juicy, shattered mess. Entertainment was provided throughout the day by the Jamie Nasario Band out of Echo and the Shades, who hail from the Tri-Cities.
The evening was capped off with fireworks blasting skyward from the Hermiston Butte.