Looking for a nice place to have a picnic? Or take your dog on a walk? Maybe play some basketball? Or just looking for a place to take your children to play? Hermiston's parks system has plenty of options for outdoor recreation activities. Here's a quick look at each of the city's 12 public parks:
Belt Park, 705 W. Pine Ave.

One of the first parks developed in Hermiston, Belt Park is 4 acres in size and features a community arboretum, gazebo, picnic tables and shelter.
Belt Park, located across the street from the West Park Elementary School playground, also includes a walking trail around the property and a stream that runs through the park. It also features a variety of trees. It's a great park to walk your dog or just enjoy the shade on a warm day.
Butte Park, 1245 N.W. Seventh St.
The largest of Hermiston's 12 parks at 40 acres, Butte Park is a true multi-purpose community park with a full-size soccer field, picnic shelter, restrooms and nearby walking trails. It is also home to Funland Playground, first built by community volunteers in 1995, then re-built in 2003 after it was destroyed by an arson fire. The park also features a free sprayground in the summer months where children of all ages can cool down on those simmering Hermiston summer days. It is Hermiston's most-used park.
Harrison Park, N.W. 13th Street
Named after longtime Parks and Rec Committee member Carlisle Harrison, Harrison Park was developed in 1998.
One of Hermiston's neighborhood parks, the property is 2.6 acres in size and includes a playground, soccer fields and restrooms.
Highland Park, 134 N.E. 13th St.
Like many parks, Highland Park was developed over a period of time. It was first dedicated in 1998 with playground equipment installed in 2011.
The park is located in one of Hermiston's newer neighborhoods near Sandstone Middle School. Another of Hermiston's neighborhood parks, Highland Park is 3 acres in size and includes picnic tables and lots of grass to relax or play on.
Hodge Park, 100 W. Highland Ave.
This 2-acre piece of property was donated to the city of Hermiston in 1976 by Dick Hodge, who was a member of the city council at the time.
Located next to the Maxwell Siding train displays, this neighborhood park features a sand volleyball area (which gets plenty of use), picnic tables, restrooms and playground equipment.
McKenzie Park, 320 S. First St.
Situated in the center of town, McKenzie Park was developed back in the early 1950s. The park is 4 acres in size and includes horseshoe courts, playground equipment, restrooms and a gazebo.
It also includes the popular Rotary Cook Shack that can be rented for picnics and celebrations. It's a popular place for car shows and private outdoor parties. A skate park is located nearby. Like Belt Park, it is populated with trees to provide plenty of shade.
Newport Park, 515 E. Newport St.
Another great multi-purpose park, Newport sits on four acres of land and includes a lighted Little League field, three lighted basketball courts just across the street, restrooms and playground equipment.
Another of Hermiston's early parks, developed in the early 1950s, Newport is a popular neighborhood park located not far from the downtown area.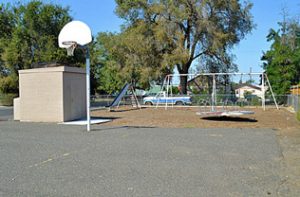 Northside Playground, 80 W. Beech Ave.
The smallest of Hermiston's parks, Northside Playground is considered a pocket park, which are small neighborhood parks located on one or two lots within walking distance of just the immediate neighborhood.
The park includes playground equipment, a basketball court and restrooms.
Riverfront Park, S.W. 23rd St.
One of two community parks in Hermiston and the second-largest park in Hermiston at 16 acres, Riverfront Park was developed in 2005. It's a popular place for fitness enthusiasts because of its three-quarter mile walking path that loops around the entire park. Located adjacent to the Umatilla River, the park features fishing access and a non-motorized board launch.
It also includes playground equipment, picnic areas and restrooms. Just north of the park is the location for the Oxford Trail, a 1.5 mile trail that will open around June 2014.
Sunset Park, 1100 N.E. Fourth St.
One of the smaller parks in Hermiston at around a half an acre in size, Sunset Park was developed near the Sunset Apartments in 1985.
A classic neighborhood park, the property includes playground equipment.
Theater Sports Park, 1800 N.W. Sixth St.
The aptly named Theater Sports Park is home to an array of sports fields. The 13-acre park includes two adult softball fields, as well as a field for youth football and soccer.
The park also features two sand volleyball courts and restrooms.
Victory Square Park, 150 S.W. 10th St.
Victory Square Park was developed in 1990 after the city acquired the property from the Public Housing Authority in 1985. The park sits on 5 acres and includes sand volleyball courts, two playground areas, including the recently-dedicated Mayor Bob Severson Memorial Playground, a basketball court, a large picnic shelter and restrooms.