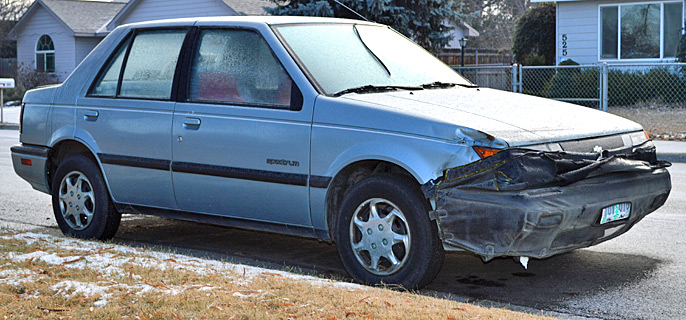 We've all seen them forever parked next to the street curb. Maybe you have one and don't know how to get rid of it. Fear not – the Good Shepherd Community Health Foundation wants your old car whether it runs or not and you'll get a tax deduction receipt for it.
The foundation began its car donation program just a couple of months ago and it's already received three donations. Bob Green, executive director of the health foundation, said people are excited to have another option available to them to get rid of their old cars.
"I've even had an individual who said, 'Can we just have a flyer to put on our neighbor's car so they can get rid of it?' " Green said.
He said the foundation began the program for a couple of reasons. The first was to help improve the local environment simply by providing a means for people to remove their broken down cars from their property. The second purpose to the program is to raise additional money for the foundation.
Green, who joined the foundation in September, said the program is simple. People can call him and provide him with the information about the car and arrange for a convenient time to have the vehicle picked up. Or, they can call the Center for Car Donations, the organization with which the foundation works. The center is based in Bend and representatives will come by to remove the car from the property. The only requirement is the car owner must have a valid title to the vehicle.
The foundation's program also accepts boats and RVS. And, said Green, the foundation will take any car regardless of its condition. The program is similar to the one offered by Oregon Public Broadcasting and other nonprofit organizations. But some organizations will take only cars that bring in a certain value. The foundation will take any vehicle, whether it runs or not.
The IRS allows up to a $500 tax deduction for donating a vehicle to a charitable organization. If a vehicle, however, is donated to the foundation and the value of it ends up exceeding $500, a separate tax receipt will be sent to the owner making up the difference between the initial $500 receipt and the actual value of the car.
The Good Shepherd Health Foundation gave out $85,000 in 2013 in the form of scholarships, health-related grants and medical treatment and testing for the underserved in the community, said Green. And since its inception in 1995, the foundation has given out more than $1 million.
To donate a car, call the Center for Car Donations at 877-411-3662 or the Good Shepherd Health Foundation at 541-667-3419.