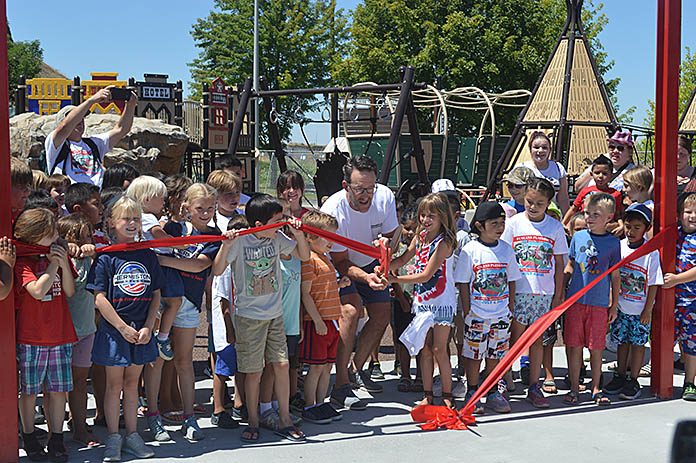 Hermiston had plenty to celebrate on Sunday with the Fourth of July, the opening of Funland Playground and a resounding 'good riddance' to the more than year-long shutdown due to the COVID-19 pandemic.
"This has been a two-year project," said Hermiston Mayor Dave Drotzmann just prior to the ribbon being cut on the third – and hopefully final – Funland Playground at Butte Park.
(See ALSO: Photo Gallery of Funland Opening, Fourth of July Celebration)
"This past year has been super tough on everyone, but especially the kids," said Drotzmann. "Today, we celebrate our freedom and we celebrate the coming out of this pandemic. It's the perfect time to celebrate."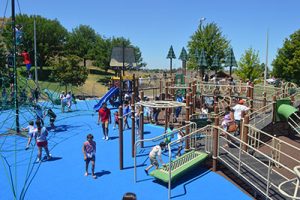 Moments later, with the help of a bunch enthusiastic kids, the mayor cut the ribbon and a flood of excited children poured into and onto the new playground and its seemingly endless features.
Hermiston Parks and Recreation Director Larry Fetter told the crowd that although the playground is not yet complete, that there was no way to keep it from the kids any more.
"We've got some lighting, fencing and cameras left to install," he said prior to the ribbon cutting. "We still have some landscaping, irrigation work and the concession stand to put it. But the kids can start using it."
Fetter told the kids that they have a one-of-a-kind playground.
"We have a playground here that is unlike any other playground," he said. "This is unique to Hermiston. In fact, if you look, you will see the name Hermiston 10 times throughout the playground."
Fetter said if the kids get bored, "it's your fault!"
The playground features various sections and themes – each with a connection to the region's heritage.
An all-wooden playground was first built by volunteers at Butte Park in the late 1990s but was destroyed by arson soon after. A new playground was built to replace it in 2001 with a larger footprint and more play structures. That structure also burned down in the summer of 2019.
This time, the community raised more than $700,000 with the intent to build it "bigger, better, and stronger."