Editor's note: This story first appeared in the Hermiston Herald and is part of a content-sharing partnership between Northeast Oregon Now and the Hermiston Herald.
The city of Echo is making progress to ensure the prevention of further flooding.
After being among many cities in the region to endure catastrophic flooding in 2020, the Oregon Emergency Management Agency was assigned to assist in mitigating risks. By anchoring trees and placing rocks in particular ways, residents' safety is being ensured in the case of future rising water levels.
David Slaght, Echo city administrator, said the town still is doing rock and tree mitigation work, helping to prevent further degradation of the river banks that pose a risk of flooding.
"We've also done some work on the north side of the bridge, which is on the very south side of town," he said.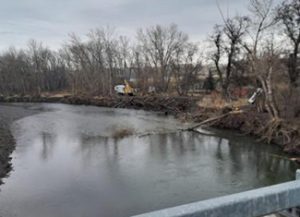 This prevention process was made possible because of $2 million in funding from the Oregon Legislature Emergency Board, which voted unanimously to fund the city's mitigation efforts in September. Slaght said it was thanks to instrumental work by Representatives Bill Hansell and Bobby Levy.
The funding distributed by the emergency board will be going into Echo's efforts in constructing wood structures, modifying rockwork and planting trees to strengthen the banks near the town.
Money will also be given back to the county, which helped fund the prevention of further flooding after 2020, thanks to the Umatilla County Board of Commissioners.
Slaght said there is a cultural survey taking place in the areas around the waters, with ground-penetrating radar to look into the stability of spaces around the banks.
"They want to sample the area that's left," Slaght said, "We lost a lot of structures from the flooding."
For the future, Slaght said the city is looking into installing levies.
"We're a long way from being able to do that, but we're in the process of getting things looked at to kind of project costs and design work so we can protect the city of Echo," he said. "As well as the ecology of the river."
Slaght said protecting the city and its residents while preserving the river's ecosystem is a delicate balance, and working with emergency management is helping to satisfy the needs to ensure the safety of both.
"It's been a team effort amongst the agency, city, county and of course the state and federal government," he said. "This process will rectify past flooding damage and further prevent water from getting into the city if there were a case for another catastrophic flood."