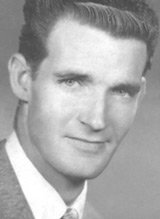 Albert Willard Pike, 85, of Umatilla, died on Tuesday Aug. 27, 2013 in Hermiston. He was born on July 29, 1928 in Borger, Texas to Morris Russell Pike and Nola Joy Scudder. Eldest of six children, Albert lived his childhood and teenage years in various communities in Texas before moving to Rainier.
After high school he married Grace Elizabeth Holsinger on Dec. 8, 1946 at Blue Lake, Calif. He held various jobs in Northern California and Oregon, such as sawmills, cook/deckhand on tugboat (Columbia River), and assistant manager at Kresge's. He moved with his wife and young son to the Los Angeles area in the early 1950s. There he worked in the aircraft industry where he eventually decided on a career as a manager of a brokerage office at Los Angeles International Airport for imports/experts worldwide. All of his four children were raised in Southern California. He remained in this career until the late 1970s, when he and his wife decided to move to Oregon to be closer to their married children. They owned a motel at Shady Cove and then a restaurant and store at Klamath Falls. Their dream had always been to travel so they sold the business and became "snowbirds" for some 12 years traveling from state to state, working at resort hotels and restaurants from Yellowstone to Estes Park, Death Valley and Mesquite. After their "snowbird" years they settled in Hermiston in the early 1990s.
His family was very important to him and he enjoyed spending time with them, as well as fishing, hunting, rock collecting and traveling. Health problems made it difficult for him to attend church, but he had a personal relationship with Jesus Christ and is now at home with Him and his family and friends that have gone on before him.
Mr. Pike is survived by Grace, his wife of 66 years; four children and their spouses; 17 grandchildren; and 19 great-grandchildren.
A memorial service will be held at the Umatilla Baptist Church 146 Columbia St. (McNary) Umatilla on Saturday, Sept. 7, 2013 at 4 p.m.
Memorial contributions can be made to Umatilla Baptist Church or Pet Rescue 1844 Geer Road, Hermiston.
Please sign the condolence book at burnsmortuaryhermiston.com.
Funeral arrangements are pending at Burns Mortuary of Hermiston.