Customers at the Last Chance Tavern in Hermiston called police late Monday afternoon when they saw a man going from car to car in the parking lot of the Foxwood Apartments.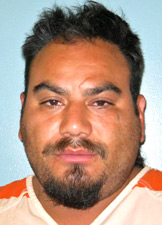 According to Hermiston Police Chief Jason Edmiston, when officers arrived a few minutes later, they found Derick L. Martinez sitting inside of a 2000 Acura that did not belong to him. Edmiston said Martinez, 29, of Yakima, Wash., was in the process of removing the stereo from the car.
Additional property was found on Martinez's person that did not belong to anyone at Foxwood Apartments. That property, which included an Xbox 360 game system and jewelry, was eventually returned to the rightful owner and victim of a home burglary in the 1000 block of W. Juanita Avenue in Hermiston.
Martinez was processed at the Hermiston Police Department before being lodged at the Umatilla County Jail in Pendleton on charges of first-degree burglary, first-degree theft, first-degree criminal mischief and unlawful entry to a motor vehicle.
"Once again, our job is made easier by citizens who are not only observant of their surroundings, but willing to call and report what they felt was suspicious," said Edmiston. "As it is impossible for our officers to be everywhere a crime is taking place, we rely heavily upon those we serve to assist us."