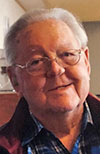 Alva Burton Stephens passed away quietly in his home on Jan. 11, 2023, just shy of his 96th birthday.
Born to Russell Burton Orvis and Fern Stephens on Feb. 17, 1927, Alva was officially adopted at age 5 by his grandparents, Jefferson and Ionia Stephens, following the death of his mother.
Alva was a charismatic and outgoing part of the community for nine decades, as much a part of Umatilla as the rivers. For 25 years, everyone crossing into Oregon was greeted by him; Alva was the toll taker on the bridge over the Columbia. And before the existence of the bridge, he piloted the small ferry that carried travelers across the river.
He was charming and larger than life. His easy acceptance of nearly everyone who met him made him instantly likable. But Alva had rough beginnings. Born with medical complications, he had 17 surgeries before the age of 6. When he was 5 his mother passed away, and he spent time in an orphanage. He was rescued by his grandparents who gave him a loving home and raised him as their own son. They started out in Portland, but due to his asthma they decided to move back to their previous home in Umatilla, and that would remain Alva's home for the next 90 years.
Old Umatilla on the banks of the river was the ideal setting for a little boy. Alva often said his biggest problem was deciding for the day whether to go hunting, fishing, swimming, or all three. He attended elementary and high school, participating in sports and drama club. He was known to steal the show and had a great sense of humor.
When World War II called, he enlisted in spite of his asthma, fooling the powers that be by hiding his medicine in a cigarette pack. (After two years at sea, his asthma was cured.) Transporting everything from German POWs to French war brides, he sailed nearly every ocean, traded with actual headhunters, and steered a ship through the Panama Canal. Alva often said that he'd been all over the world, but the place he loved the best was where the Umatilla River meets the Columbia River. "Paradise" was his name for it.
When he returned home he married Dottie Faye Stephens, and the two remained inseparable. They built two houses together, raised three children, and enjoyed camping, fishing, hunting, cowboy action shooting and trap shooting, and did some traveling across the country after retirement. When Dottie was diagnosed with Alzheimer's, Alva spent many years showing total devotion to her care.
He was a faithful provider, and always worked hard, but he was never too busy to set aside time to make toys and play with his granddaughters, "Pill" and "Buckshot."
Alva embodied a time when life's pace was slower and people knew their neighbors better. He kept that spirit alive because that's the way it's done, and that's what's good. His passing is not just that of a wonderful man, but someone very loved by so many and a big part of this community and Umatilla's history. To quote one of his favorite sayings, "All this, and heaven too!"
He is survived by his children, Jackie (Dave) Bingner, Jimmie Schleh and Jerry (Cheryl) Stephens; three grandchildren; and four great-grandchildren.
A celebration of life will be held in early spring.
Arrangements are with Burns Mortuary of Hermiston.