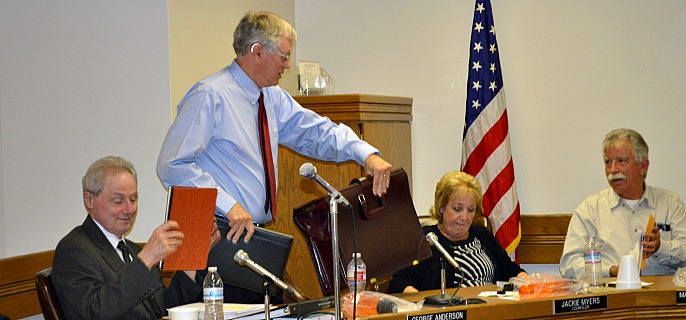 On the night when the Hermiston City Council gained a new city manager, it lost one of its fellow members when George Anderson unexpectedly resigned, effective immediately.
Just before Hermiston Mayor Dave Drotzmann gaveled the meeting to a close, Anderson made the brief announcement that he was resigning and handed his letter of resignation to the mayor.
Anderson had announced in January that he would not run for another seat on the council, but his resignation was a surprise.
"He didn't tell me," City Manager Ed Brookshier said after the meeting.
Anderson said he wanted to spend more time with his wife, children and grandchildren. He also indicated much of the work he was focused on this year has been wrapped up, including the selection of a new city manager. Anderson joined his fellow councilors Monday night in choosing Byron Smith to succeed the retiring Brookshier. Smith is currently the city manager for Fort Madison, Iowa.
Anderson was a supporter of Clara B. Fitzgerald, who ran unopposed in May for Anderson's seat on the council. He said Fitzgerald would do a great job filling out the remainder of his term, which ends at the end of the year.
"We now have a very capable person to fill my seat on the council," he said of Fitzgerald.
Fitzgerald, however, will have to apply for appointment to serve out the rest of Anderson's term. Brookshier said the city would post the vacancy and interview candidates.
More Stories from Northeast Oregon Now:
Hermiston Council Selects New City Manager
SAGE Center Draws 20,000 Visitors During First Year
Umatilla School District to Lease Senior Center