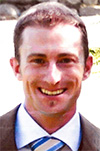 Andrew Thomas "Andy" Beitel of Spokane, Wash., longtime Umatilla resident, died on Jan. 18, 2020 in Colville, Wash. at the age of 46.
He was born on Nov. 8, 1973 in Coos Bay to Robert "Bob" and Janet "Jan" Beitel.
Andy was raised and attended schools in Umatilla. He was a Rotary scholar and served as salutatorian of Umatilla High School, class of 1991. Andy graduated from Oregon State University with a Bachelor of Science degree in pharmacy. He was a working pharmacist at Rite-Aid.
Andy loved sports, playing baseball, basketball, football and track in Umatilla. He was very social, making many friends at home and in his travels to Spain, Portugal, Italy, Greece and China. Andy loved the warm and sandy beaches of Hawaii, his favorite place to vacation. He had a passion for restoring VW vans and bugs. Andy enjoyed hunting, fishing and an occasional round of golf.
He had two beautiful daughters, Sophia and Maria Beitel. Andy loved his girls and kept up his relationship with them throughout his time on earth, spending time with them camping, painting, and going on many trips, including Yellowstone National Park. Andy planned his work schedule to allow him to have several weeks off each summer to devote to his girls. We love you, Andy. Our prayers are with you. May you rest in peace and we will see you soon.
Andy is survived by his daughters, Sophia and Maria Beitel; his parents, Jan and Bob Beitel; brother, Daniel Beitel; sister, Diana Graalum and her husband Jason; and several aunts, uncles, cousins, nieces and nephews.
He was preceded in death by his grandparents, Edith and Frank Snyder and August and Anna Beitel.
Recitation of the Holy Rosary will be held on Saturday, Feb. 15, 2020 at 1 p.m. at Our Lady of Angels Catholic Church, 565 W. Hermiston Ave.
Mass of Christian Burial will follow at 1:30 p.m.
Those who wish may make contributions in Andy's memory to St. Jude's Hospital at st.jude.org.
Please share memories of Andy with his family at burnsmortuaryhermiston.com.
Burns Mortuary of Hermiston is in care of arrangements.