Christmas for local children will be much merrier this year thanks to a donation of 54 bikes, trikes and helmets by an anonymous donor.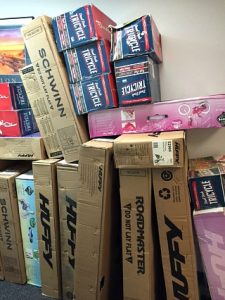 Hermiston Police Chief Jason Edmiston said an anonymous donor purchased 54 new bicycles and helmets at Wal-Mart and donated them to the department's annual Christmas Express program.
Edmiston said the donations to the program this year has been "incredible," and said the donated bikes and helmets cost the donor around $5,200.
Donations of unwrapped toys and food can be dropped off at the following locations:
• The Hermiston Police Department located at 330 South 1st St., from 9 a.m. to 5 p.m., Monday through Friday
• The Agape House located at 500 W Harper Road, 10 a.m. to 11:45 a.m. and 1 to 2:45 p.m., Monday through Friday
Edmiston said most public schools in Hermiston are holding canned food drives. If anyone knows a student and would like to donate canned goods, have that student turn it in for credit. A party is awarded to the winning class from each participating school.
The program utilizes various entities to identify families in need. Each family will be provided approximately 100 pounds of food, including a large turkey and presents are available for children through age 11.
If anyone has any questions about donations, call Edmiston at 541-667-5107.