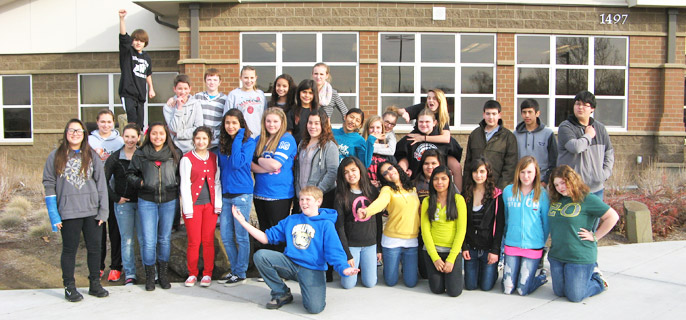 The students behind Armand Larive Middle School's ALTV received an unexpected surprise while viewing their latest broadcast featuring school-related news.
The surprise came when their class adviser, ALMS science teacher Robert Doherty, edited the broadcast by inserting his own announcement that the school had been named "Best Middle School" by U.S. Education TV and was named a "February Featured School."
Armand Larive Middle School earned the honors for being the school that "best utilized the U.S. Education TV platform." The school received the award, along with $5,000, during the Student Television Network Convention in Los Angeles on Sunday. The announcement was streamed live on U.S. Education TV.
ALTV is an elective video production class taught by Doherty, who regularly submits the school's news broadcasts to U.S. Education TV. ALTV students produce a weekly television show featuring school-related news reports and features.
Doherty said his students' reaction to the award was gratifying.
"I think what impressed me most was how my students handled it," said Doherty. "They cheered when they saw the announcement. Afterwards, the first question wasn't 'What can we buy?' It was 'We should do something to thank them.'
That says a lot about how unselfish the students are."
For more information on U.S. Education TV and the ALMS February feature, visit its website.
"On behalf of Armand Larive Middle School and the Hermiston School District, we wish to express our sincere appreciation and thanks to U.S. Education TV for their recognition of ALMS," said Doherty. "The award will allow us to add and upgrade our equipment and continue to improve our programming to the community."
The mission of U.S. Education TV is to give high schools, colleges and churches throughout the country the opportunity to present their local events "through the eyes of the students, staff, (and) community."