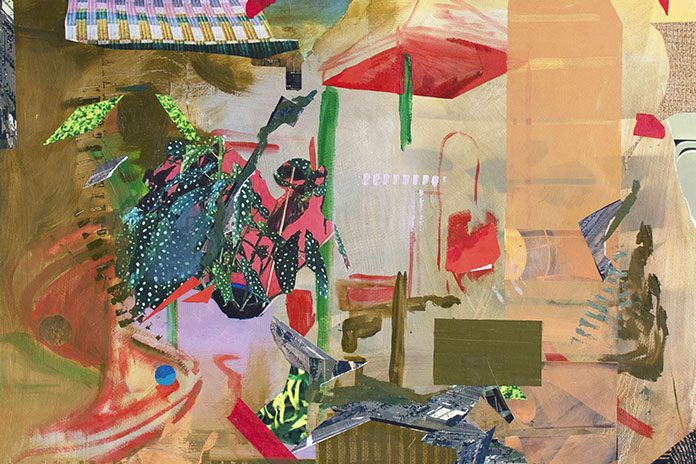 While Emily and Andrew Somoskey both create paintings that incorporate layering and abstraction, each artist has a distinctly different approach to their work, resulting in an intriguing resonance when the paintings are in proximity to one another. The viewer's brain seeks to compare and contrast, and the work, already rich and complex, and thought-provoking, takes on an additional dimension.
The two artists' works will be on exhibit in the East Oregonian Gallery at the Pendleton Center (PCA) for the Arts Feb. 2-25. The event kicks off with an opening reception on Thursday, Feb. 2 from 5:30 to 7 p.m. The reception is free and open to the public.
Both artists received their Masters of Fine Art degrees from Michigan State University, Andrew in 2019 and Emily in 2020. After graduation, the married couple moved to Walla Walla, where Emily began work as a visiting assistant professor of Art at Whitman College. "Seeing both artists' work in the same space is a great way for visitors who aren't well-versed in abstract art to develop an eye for underlying structure," said PCA Executive Director Roberta Lavadour. "Having two different processes, both in thought and execution, brings home the fact that 'abstract' doesn't mean 'random.'" Andrew Somoskey's work incorporates the activity of encoding and decoding information that is central to our contemporary existence and to his artistic practice. The paintings center around textual and symbolic language, using specific texts, graphs, and symbols in conjunction with personal notational systems, including the idiosyncratic strategies he developed to mitigate his dyslexia and dysgraphia. Emily Somoskey's mixed-media paintings explore the ways we simultaneously experience physical and mental space. Built through layering paint and various forms of photographic imagery, they create a complex and nuanced language that weaves together moments of clarity and ambiguity. The works give form to the complexity, instability, and enigmatic nature of our lived experiences. Free admission to the exhibit is made possible through the generous support of Collen and Jeff Blackwood. More information is available by calling 541-278-9201 or visiting online at PendletonArts.org.