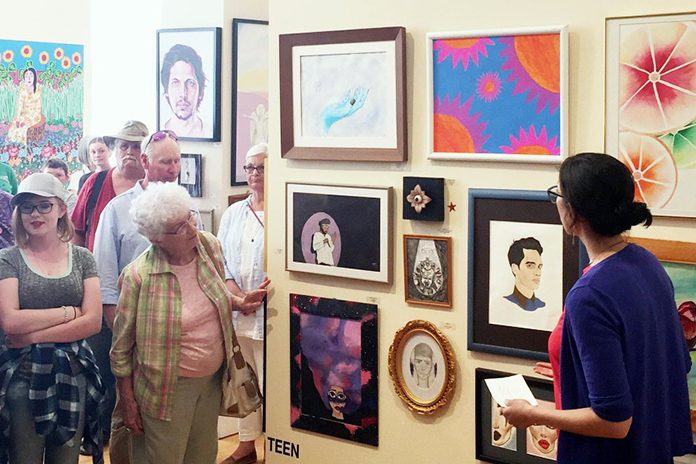 Artists from across northeast Oregon and southeast Washington are reminded to submit work for this year's Open Regional Exhibit at the Pendleton Center for the Arts.
Date for drop-off of artwork is Saturday, May 4 from noon to 4 p.m.
The exhibit opens in the East Oregonian Gallery on Thursday, May 9 with a Judge's Critique at 5 p.m. and opening reception from 5:30 – 7 p.m. Both events are free and open to the public.
This year marks the 45th anniversary of the event, which brings beginning, emerging and established artists together to share their best work. Adults 18 and over may enter up to two pieces and a special teen category is available for artists 13-17 years old. Accepted works include but are not limited to painting, printmaking, book arts, sculpture, mixed media and fiber arts.
Photography is the only medium not accepted.
Banner Bank of Pendleton is a long-time sponsor of the Open Regional event and contributes $1,000 in cash prizes that are awarded to artists in both the adult and teen categories. Visitors to the gallery also have an opportunity to vote for their favorite work and the winner will be awarded the Jacqueline Brown People's Choice Award.
This year's judge is Walla Walla artist Rachel Smith. Smith's artwork and curatorial projects investigate the complexities of the individual and the collective as it relates to memory, processes, and materials. She has curated numerous exhibitions
Smith received her master of fine arts from the University of Idaho and bachelor of art in commercial art from Walla Walla University. She currently maintains a studio practice in Walla Walla and is an assistant professor of art at Columbia Basin College in Pasco, Wash. Her Judge's Critique will provide insight into why selected works were singled out for awards and provide some professional development tips for artists looking to further their work.
The exhibit will be on view through May 25. Admission to the gallery is always free. Entry forms are available at the Pendleton Center for the Arts or can be printed from the website. More information is available online or by calling 541-278-9201.