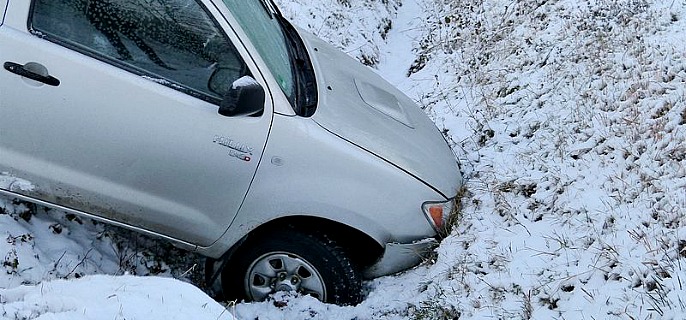 January has been a good month for auto body businesses in Hermiston.
Through the first 17 days of January, there have been more than 50 automobile accidents in Hermiston, due primarily to the snow and ice accumulations that have made pavement resemble ice rinks more than roads and streets.
There were at least 10 accidents in town through the first eight days of the month, but by Jan. 9, the wrecks have been piling up.
When asked if the Hermiston Police Department has been busier than usual responding to auto accidents, Chief Jason Edmiston answered with an emphatic "Yes!"
"A significant increase in crashes and citizen assists due to the inclement weather this year," Edmiston said on Thursday.
The department began seeing a real uptick in accidents on Jan. 9 when there were five reported accidents, followed by 12 more on Jan. 10 and 11 more over the two-day period of Jan. 11-12. There has been at least one accident reported every day between Jan. 3-17. And that doesn't include calls for assistance due to vehicles stuck in the snow.
Edmiston said his department has been responding to the accidents as any other call for service, but added he's put a premium on caution.
"The only caveat I have made is that there has been a couple nights this year where I have ordered late shift to be responsive versus proactive," he said. "With our limited budget, the last thing I need is an officer to crash a police vehicle, because even just one vehicle going down would put a significant strain on our operations."
Edmiston said improvised parking appears to be the culprit in many cases.
"People need to navigate the situation with caution, yet common sense needs to be applied as well," he said. "We have seen some very interesting parking jobs that have impacted the flow of traffic and our officers have had to make contact and ask for the vehicles to be moved. Our only recourse is a citation and we would much rather educate versus enforce. "
And, of course, speed has been a major factor, Edmiston said.
"Just yesterday (Wednesday) I followed an individual down E. Highland Avenue and I paced him at 40 mph and increasing before I intervened and turned my lights on," the chief said. "My vehicle was in 4×4 and his was a 2×4 pickup that had already fish-tailed once."
The weather outlook for the coming days may or may not add to the problem. While the temperature is beginning to warm up, more snow may be on the way, but the National Weather Service is predicting less than half an inch to fall over the next few days.