Anne Beard's western lifestyle furniture is coveted by collectors across the country, and this year she's partnered with the Pendleton Center for the Arts and the Pendleton Animal Welfare Shelter to use her work to support two of her favorite causes.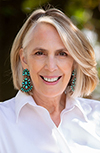 Beard has donated a bench, aptly titled "Partners," for a raffle that end on Thursday, February 3. All proceeds will be split between the two organizations.
"Partners" is covered with appliquéd and embroidered wool gabardine and  features leather wrapped legs and rails, accented with elaborate nail head application. The piece is valued at $4,200 and, like all of Beard's work, is one-of-a-kind.
A veteran of her craft, Anne Beard grew up on a mountain ranch in Washington and has lived on the Oregon high desert for the past two decades, where she creates upholstered furnishings for the contemporary western lifestyle. She's received numerous awards for her work at venues like the Cody High Style Buffalo Bill Historical Center and the Desert Caballeros Western Museum. Her work has been featured in American Cowboy, Living West, Western Art & Architecture, and many other magazines and publications.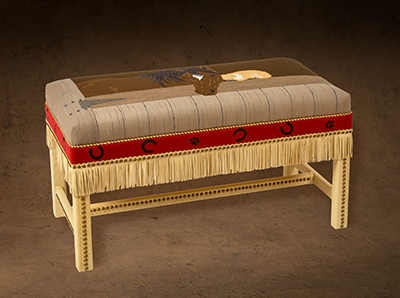 A strong sense of individuality, coupled with decades of focused experimentation makes Beard's work uniquely identifiable. Given the attention to detail lavished on each piece, she produces a limited number of orders each year.
Corrine Joy Brown of Persimmon Hill Magazine noted that Beard's furniture "transcends the functional (and should be) appreciated for what they are — three dimensional art."
Tickets to win the bench are available at the Pendleton Center for the Arts or at their website, PendletonArts.org. Tickets are $5 each or six for $20, and purchasers must be over 18 years old. Winner is responsible for all applicable state and federal taxes.
More information is available by calling the Pendleton Center for the Arts at 541-278-9201 or by emailing director@pendletonarts.org.