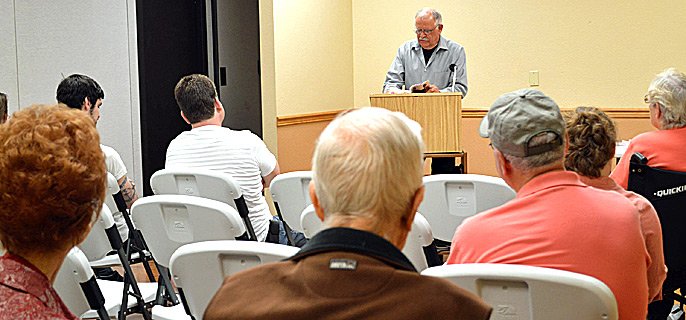 It took Alan Howard a long time to finish his first book – four decades, in fact.
To be fair, in 1972, when Howard wrote the first story that appears in his book, "In Time," he never intended for it to be part of any book. At the time, it was simply a class assignment for a course he was taking at Eastern Oregon University, then known as Eastern Oregon College.
But the 1961 Hermiston High School graduate continued to write stories after college when he went on to a teaching career, during which time he taught for three years at Stanfield High School and one year at HHS.
"I thought I'd just give these stories to my grandkids someday," said Howard on Saturday, following a book-reading
appearance at the Hermiston Public Library. But he set aside his modest intentions after he became part of a writing group a decade ago and others in the group encouraged him to write a book.
Five years after beginning in earnest and countless re-writes ("For each story there was a minimum of 25 revisions," he said), Howard finally finished and published "In Time" late last year. It's an anthology of poems and short stories about a pair of brothers who come of age in Eastern Oregon. The stories begin around 1953 and follow the brothers through 1970.
And while Howard says the book is complete fiction, he shares a few similarities with the characters. One of the stories, "In Pursuit of Elk," describes 15-year-old Nick getting separated from his family on a hunting trip and having to spend the night alone in the woods. He encounters a bull Elk, but fear and self-doubt preclude him from pulling the trigger.
"Like Nick, I got lost on a hunting trip around that age, but I didn't have to spend the night alone," he told the audience Saturday. "I didn't shoot any elk, either."
Howard said his two greatest writing influences are La Grande author George Venn, who was also one of his college professors, and Portland writer Robin Cody. It was Cody who gave Howard some of the best advice while working on his book.
"He read one of my stories and said, 'Trash it. It's terrible. You're a better writer than that.' He was right."
Howard has lived in Tigard since 1988, but with his wife having family in the area, he still makes it back to Hermiston from time to time.
On Saturday, he caught up with former classmates, as well as the mother of one his former Stanfield High School students. Mildred Kasari of Stanfield had Howard sign a copy of his book for her son, Brent.
"He has a son named Brent, too, and my son and his son were friends," Kasari said.
Saturday's event at the library was Howard's sixth book-reading appearance since "In Time" was published, and one of his most enjoyable.
"I've been looking forward to coming back to Hermiston and seeing and talking to old friends," he said. "There's nothing quite like going back to where you went to high school."