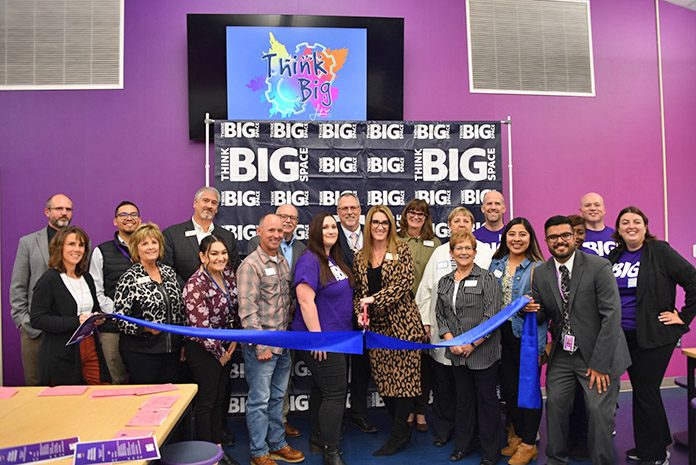 Hermiston School District in collaboration with Amazon Web Services (AWS) held a ribbon-cutting event recently to celebrate the grand opening of the AWS Think Big Space in Hermiston.
The new space will provide a dedicated space for students and educators to explore innovative and imaginative ideas through interactive hands-on technical education and cloud computing training. This is the third AWS Think Big Space in Eastern Oregon.
The AWS Think Big Space in Hermiston, located across from Blue Mountain Community College, will serve as an "educational lab," for students from third grade through community college and will feature cloud computing and various AWS technologies. This program aims to develop a spirit of innovation among children and young adults and to cultivate their interest in STEAM fields – science, technology, engineering, arts, and math.
"We're thrilled this new space will give our students the opportunity to learn to look at problems in innovative and imaginative ways," said Superintendent Dr. Tricia Mooney. "These skills will help prepare them for the future workforce – regardless if that future is in four years or 10 years."
The goals for the AWS Think Big Space in Hermiston include cultivating critical, creative, and collaborative thinking, as well as immersing students in STEAM to problem solve and innovate. Specific areas of focus for this space will include increasing technology literacy in coding, robotics, machine learning, and Internet of Things.
"At AWS, we're committed to making a positive impact in the communities where our employees live and work," said Cornelia Robinson, Global Leader of Inclusion and Outreach for AWS. "We want to ensure more students have the resources and skills they need to build their best futures, and we believe this AWS Think Big Space will act as an important pathway for students to learn about STEAM and the available career paths in these areas."
AWS Think Big Spaces are part of the AWS InCommunities commitment of making a positive impact in the communities where it builds and operates its global infrastructure.