Blue Mountain Community College President Dennis Bailey-Fougnier announced that he will be leaving his job effective today due to health reasons.
"BMCC is a fantastic institution with a strong future ahead. I regret that I will not be able to be a part of that future but I have decided I need to focus on my health," said Bailey-Fougnier. "I am grateful to everyone who contributes to the success of BMCC."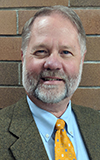 Bailey-Fougnier was diagnosed with cancer in late 2020. While he continued his work during initial treatment he has chosen to step away from his responsibilities with the college to focus on his long-term health.
Prior to joining BMCC in May 2019, Bailey-Fougnier was the vice president of Community College Affairs at Colorado Mesa University in Grand Junction, Colorado. He received a bachelor's degree from the University of Oregon, his master of education from Wichita State University, and his doctor of education (ABD) in community college leadership from Oregon State University.
"Creating stability for students, faculty and staff through this transition is our priority," said John Fields, BMCC vice president of instruction. Fields was appointed by the BMCC Board of Education as acting president upon Bailey-Fougnier's resignation.
BMCC officials said plans will be announced In the coming weeks to hire an interim president and establish a presidential search process.