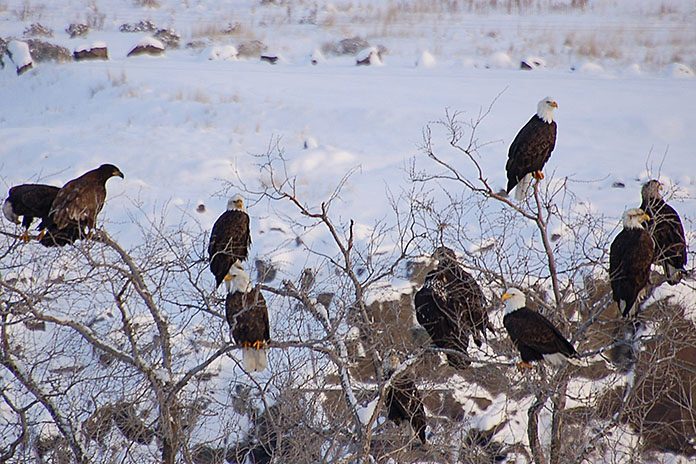 Take someone under your wing and bring them out to the 12th annual Eagle Watch at The Dalles Dam Visitor Center later this month.
The free event goes from 10 a.m. to 3 p.m. on Fridays and Saturdays, Jan. 21-22 and Jan. 28-29. The U.S. Army Corps of Engineers is eager to host Eagle Watch in-person, as last year's event was virtual.
Each winter, upwards of 60 bald eagles migrate south in search of food, and the Columbia River is a favorite winter vacation home. Corps park rangers and partners from the U.S. Forest Service and the Columbia Gorge Discovery Center will provide activities, educational programs, live raptor viewings and eagle watching outside.
Corps staff encourage visitors to bring their own scopes, binoculars and cameras. Due to COVID-19 precautions, activities will take place outside, so please dress appropriately for the weather.
The Dalles Dam Visitor Center is located just north of Interstate 84 at exit 87, then east on Bret Clodfelter Way. For more information, please contact The Dalles Lock and Dam Ranger Office at 541-506-8475 or visit www.nwp.usace.army.mil/Eagle-Watch/.
To learn more about raptor viewing and educational opportunities in the Columbia Gorge area, check out the Columbia Gorge Discovery Center & Museum at www.gorgediscovery.org  or the Rowena Wildlife Clinic at www.rowenawildlifeclinic.org.