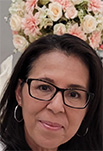 Rebecca Alejandra "Becky" Orozco Ramirez, former Stanfield resident, died on Jan. 6, 2023 at her home in Houston, Texas at the age of 54.
She was born on Sept. 16, 1968 in Los Angeles, Calif. to Miguel Orozco Bravo and Maria Ramirez Orozco.
Becky was raised and attended schools in Hermiston and Stanfield. She graduated from high school and joined the United States Army and served until her honorable discharge. Becky moved to Texas and was working as an eligibility consultant in health care. She lived a loving life, dedicated to her children, granddaughter and her extended family. Becky was a strong and hard-working woman. She enjoyed traveling to South Africa and swimming with the great white sharks and went skydiving with her son on his birthday. Becky was a loving person not only to her family, but would help others in need, taking them into her home. She volunteered for the Houston ASPCA and loved animals, including her two pit bulls and her cat. Becky was an avid Houston Texans football fan who enjoyed watching and following many football teams. She was happy and full of energy, and enjoyed making others laugh.
She is survived by her daughter, Ashley Kelley, son, Michael Severa, and her granddaughter, Kora Kelley, all of Houston, Texas; sister, Martha Orozco, Hermiston; brother, Miguel "Mike" Orozco, Houston, Texas; nephews, Michael and Nico; and numerous aunts, uncles and cousins.
Becky was preceded in death by her parents; a sister, Isela Orozco; and a brother, Alberto "Cheech" Orozco.
Mass of Christian Burial will be held on Saturday, Feb. 11, 2023 at 12 noon at Our Lady of Angels Catholic Church, Hermiston.
Please share memories of Becky with her family at burnsmortuaryhermiston.com.
Burns Mortuary of Hermiston is in care of arrangements.