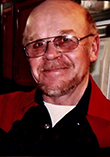 Bert W. Curtis of Hermiston passed away in Hermiston on April 10, 2019 at the age of 76.
He was born on Nov. 14, 1942 in Eugene to Bert and Arlene Jackson Curtis.
Bert grew up in Brownsville and graduated from Central Linn High School in 1960. He served in the U.S. Army during the Vietnam War as a helicopter mechanic. After his honorable discharge, he returned to his position at the Oregon State Highway Department in Grants Pass. He married Mary Jo Rapp in Roseburg in April 1964.
In 1976, he moved to Hermiston, where he had resided since. While living in Hermiston, he worked as a building inspector for the state of Oregon and later the city of Hermiston. He was instrumental in the community as a member of Northeast Oregon Homebuilders Association, with notable involvement on the Hermiston Library and Sunset House projects. He retired after 30-plus years of public service in 1991. Bert continued working as a commercial truck driver, hauling concrete materials and various agricultural products. Bert was an avid hunter, aviator, farmer and outdoorsman. He loved airplanes, building, boating, classic cars, motorcycles, mules, and operating heavy machinery. He is survived by brother, Jay Curtis; sisters, Laurel Christopher and Marlene Sloan; companion of 10 years, June Rosenberg; son, Patrick Curtis; daughter-in-law, Timmi (Bailey) Curtis; daughter, Beth Curtis; grandsons, Russell Curtis, Klinton Mathers and Zachary Christensen; granddaughters, Amanda Barns and Tanner Christensen; great grandson, Blaine Barns; and his beloved dachshund, Maddie. He was preceded in death by his wife, Mary Jo in 2008, and by his parents.
A celebration of life will be held on May 18, 2019 from 1 to 4 p.m. at the Harkenrider Senior Activity Center, 255 N.E. Second St., Hermiston.
Burns Mortuary of Hermiston is in care of final arrangements.