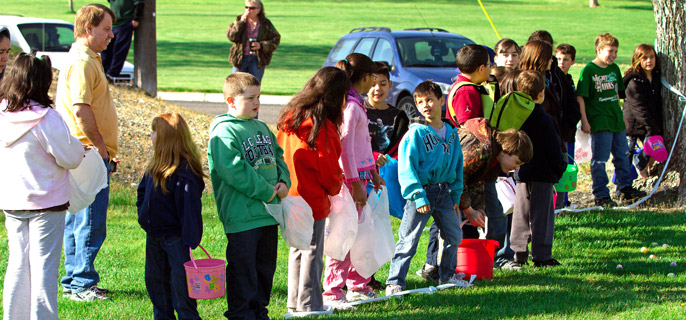 With baskets in hand and eyes sharply focused, children from Umatilla to Boardman will be taking part in a favorite spring-time tradition – the Easter egg hunt.
Several community Easter egg hunts will take place next weekend, beginning Friday night when the Hermiston Parks and Recreation Department sponsors its Flashlight Easter Egg Hunt at the Hermiston Butte. The event is free and children ages 10 and under are encouraged to bring a flashlight to search for eggs in the dark. Parents are advised to stay with their children during the hunt which gets under way at 8 p.m. For more information, call 667-5018.
On Saturday, the Umatilla Chamber of Commerce will hold its third annual Easter Egg Hunt at 10 a.m. at West Park at McNary Lock and Dam. Kids from newborns to age 10 are welcome to search for Easter eggs. Groups are broken up into age groups – newborn to 3, 4 to 6 and 7 to 10. Children must be accompanied by an adult.
Two lucky children from each age group will win a basket filled with goodies by locating a special egg. For more information, call the chamber at 922-4825.

The annual Echo Easter Egg Hunt will begin at 9 a.m. on Saturday. The hunt will be held in three locations. For infants and children up to age 4, the egg hunt will held at the Echo Community Methodist Church. For children ages 5-7, it will take place at Fort Henrietta Park. For children 8-12, it will be held at the football field. The event is sponsored by the Echo Community Methodist Church and the Volunteer Fire Department. Following the egg hunt, the Easter bunny will appear at the church and face painting will be offered. For more information, call 376-8108.
The Tillicum Easter Egg Hunt begins at 10 a.m. Saturday at the Boardman Marina Park, 1 W. Marine Drive. Toddlers and children up to fourth grade are invited to take part. Children in each age division will have a chance to find a Golden Prize Egg. The event is sponsored by the Boardman Chamber of Commerce. For more information, call 481-3014.