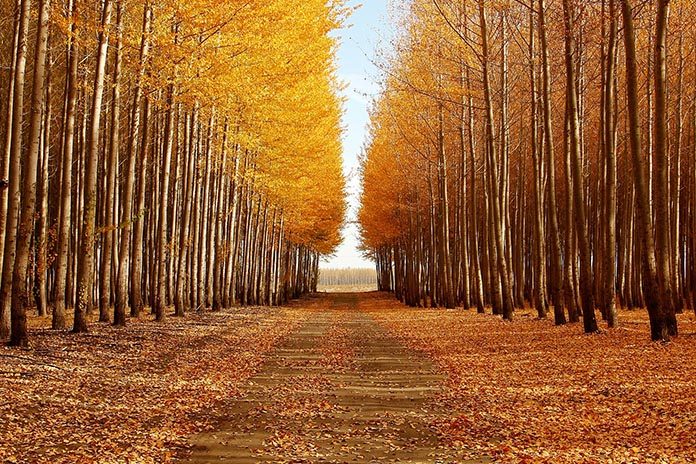 The Betty Feves Memorial Art Gallery will feature the work of two Oregon photographers in its next exhibit, "Vanishing Nature."
The community is invited to attend the exhibit's opening reception and meet the artists on Thursday, Nov. 1, from 4:30-6:30 p.m. at Blue Mountain Community College. The event is free, family-friendly, and light refreshments will be served. An artist talk will take place at around 5 p.m.
In this two-person exhibit, Kate Ampersand and Katie Newton share pieces from a series of work that explores iconic motifs of nature and the shifting landscapes of the Pacific Northwest. While each artist uses a different photographic process, the final images offer a visually stunning and thought-provoking exhibit.
After the Boardman Tree Farm was sold and plans to remove the trees were announced, Kate Ampersand began photographing the trees during multiple visits over varying seasons to capture the ever-changing colors, lines, shapes and textures among the poplars. She uses three different types of cameras, including an iPhone, mirrorless and dSLR. While her tools may be digital cameras, she does not use Photoshop to alter her work, preferring instead to capture "real life moments as they actually exist, in-camera." Amersand, a self-taught photographer, splits her time between Portland and Vancouver Island, BC. She has taken continuing education classes in photography at Portland Community College and Clark College in Vancouver, Wash. She has won numerous awards for her photographs and has work included in permanent collections, including a permanent installation at the Beaverton City Library.
In the series "Nature's Afterimage," Newton explores the continually shifting landscapes along the Oregon Coast that result from the strong winds, tidal currents and storms common in the area. She creates lumen prints, which capture the afterimage of organic materials that have naturally fallen onto the photographic paper. Netwon holds a Bachelor of Fine Arts degree in Photography from the University of Oregon. She currently resides in Redmond.
The exhibit at the Feves Gallery runs Nov. 1-29, 2018. The Feves Gallery is open Monday-Thursday from 9:30 a.m. to 1:30 p.m. and by appointment by calling (541) 278-5952. The Feves Gallery is located in BMCC's Pioneer Hall on the Pendleton campus at 2411 NW Carden Ave.