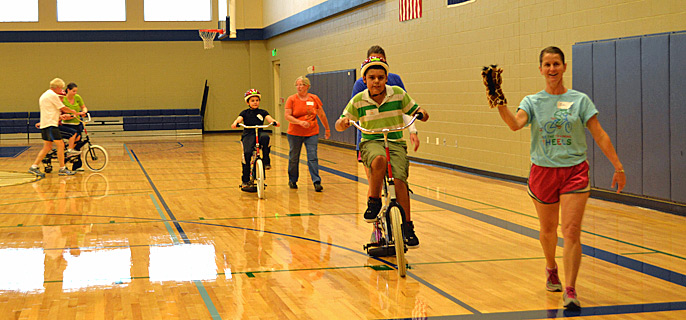 Most of us learn to ride a bike around age 5 or 6. It's a rite of passage in early childhood that represents no small degree of independence and instills in us a sense of personal achievement. Yet for others, people with either physical or developmental disabilities, riding a bike can seem like an impossibility.
But the seemingly impossible is being made possible this week at Armand Larive Middle School, thanks to a program called iCan Bike in which trained staff and local volunteers spend the week patiently and enthusiastically giving disabled folks a sense of accomplishment and freedom by teaching them to ride a bike.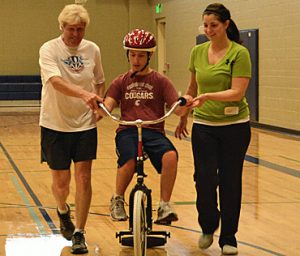 For Cindy Middleton, the iCan Bike program not only taught her son how to ride a bike, it changed her whole family dynamic. Her son, Rian, was born with hypotonia, which produces low muscle tone and can affect motor nerve control in the brain. Rian's condition resulted in both learning and physical disabilities. Because of the hypotonia, there were things that Rian simply couldn't do, such as go on a bike ride with the family or with his friends.
Three years ago, when Rian was 9, Middleton read about the iCan Bike program in a magazine. The nearest week-long camp was in Longview, Wash., which is about 225 miles from Hermiston. But she wanted Rian to be able to ride a bike, so she signed him up and made the nearly four-hour trip over to Longview.
And it was worth it.
"Now the whole family gets to ride together," said Rian's grandmother, Judy Bracher.
Middleton was so sold on the program that she convinced the iCan Shine organization, which puts on the bike camp, to bring it to Hermiston last year and again this year. She and Brian Schimel, the former principal at Highland Hills Elementary, are co-coordinators of the Hermiston camp, which is sponsored by the Hermiston Kiwanis Club, the Intermountain Education Service District and the Hermiston School District. This week there 30 participants in the camp, twice as many who took part last year.
"It's given Rian a sense of self-independence," Middleton said Wednesday. "If you can go out and ride with your friends, it gives you a great sense of freedom. And for all of us to be able to ride together is great."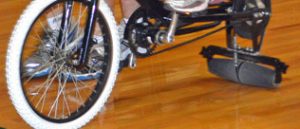 The bike camp kicked off in Hermiston on Monday and wraps up Friday. Participants sign up for one of five 70-minute time slots each day where they are given one-on-one instruction and guidance. During the camp, riders are provided bikes that have been modified by removing the back wheel and replacing it with something that looks like a rolling pin or paint roller to prevent them from tipping over. The first roller the campers ride with is relatively flat to provide a solid balance, but as they begin to progress the rollers are replaced with ones that are gradually wider in the middle and narrower at the ends, forcing the riders to find their own balance. The goal is that at the end of the camp, the participants are riding regular bikes with regular wheels.
Middleton said about 80 percent of campers are able to successfully ride a regular bike by the end of the week.
The week-long camp costs $99 and participants must be at least 8 years old, but there is no maximum age. Middleton said when Rian took part in the camp in Longview, there was a 56-year-old camper. This week in Hermiston, there is a rider who is 19 and another who is 26.
"For some of these people, riding a bike will be the only form of transportation they ever have," Middleton said.
The camp is run by trained staffers from iCan Shine as well as about 60 local volunteers. Kevin Hamblin, a fifth-grade teacher at Highland Hills Elementary School, is one of the volunteers.
"I heard such good things about the program so I made the time to take part," he said. The enthusiasm runs pretty high among the kids, he said.
"They're pretty excited," Hamblin said. "There's one kid who every time there's a break, he runs to get a drink and then runs right back to get on the bike just jabbering away."
Middleton said most of the kids are eager to take part in the camp, but one of them needed a little extra incentive. He had no interest in participating a year ago, but during the past school year, he earned a bike in a reading contest and quickly changed his mind and is now part of the camp this week.
Middleton said learning to ride a bike opens up a whole new world for the campers. Up until now, they've only been able to watch others ride away on their bikes. Now they can ride themselves – or soon will be able to.
"For Rian, bicycling is his exercise and his fun," she said.
For more information about the iCan Bike program, visit the iCan Shine website.
Editor's note: The iCan Bike program was made possible in Hermiston by grants from the Good Shepherd Community Health Foundation and Wildhorse Foundation. Funding donations were made by Umatilla Electric Cooperative, Pendleton Grain Growers, Williams Inc., For the Love of the Game softball tournament and the Arc of Umatilla County. In-kind donations were provided by the West Umatilla Mosquito Control District, Crazy Mike's Videos, Hometown Office Supply, Desert Springs Water, R&R Sports Trophies, 3 Kids Curing Cancer and Healthy Communities. The program also received numerous private donations.