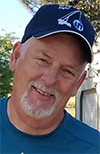 William D. "Bill" Cram of Hermiston died on June 3, 2018 in the Blue Mountains near Penland Lake at the age of 65.
He was born on April 29, 1953 in Redmond to Joseph and Audrey Fleck Cram.
Bill graduated from Madras High School in 1971. He then attended Lane Community College, where he was a member of the 1973 National Championship cross country team. After earning an associate degree from Lane Community College, Bill transferred to Oregon State University, where he lettered in track and field and graduated with a bachelor's degree in 1975. Bill started his career with Portland General Electric in 1975 and worked in a variety of facilities and capacities until his death, most recently serving as a maintenance foreman at the Boardman coal fire plant.
He married Lois Marie Cloud on June 7, 1975 in Metolius. Bill was a loving and caring husband who enjoyed traveling and exploring the world with Lois, his spouse of nearly 43 years. He was a patient father who always made time for his sons and their various endeavors. He enjoyed being a grandfather, and his five grandchildren are blessed with many fond memories of playing and exploring nature with him. He will always be remembered for his good-natured teasing and love for family.
Bill was a member of New Hope Community Church in Hermiston, an active volunteer in various youth and high school sports and a longtime blood and platelet donor to the Red Cross. He enjoyed archery and rifle hunting, fishing, golf, spending time outdoors, all things related to Oregon State, and tinkering with his 1966 Chevy Super Sport. He was an accomplished runner who competed in many races and completed the Tri-Cities Marathon in 2004.
He is survived by his wife, Lois Marie Cram, Hermiston; sons, Matthew Cram, Sammamish, Wash., Timothy Cram, Lynnwood, Wash. and Michael Cram,
Issaquah, Wash; brothers, Robert Cram, Oregon City and Donald Cram, Yamhill; sister, Diane Cram, Madras; grandchildren, Jackson, Logan, Ella, Emarie and Jethro; and numerous nieces, nephews and cousins.
Bill was preceded in death by his parents and his grandson, Jamin.
An open house celebration of Bill's life and legacy will be held on Saturday, June 16, 2018 from 12 until 2 p.m. at New Hope Community Church, 1350 S. Highway 395, Hermiston. Questions regarding the celebration can be directed to the church office at 541-567-8441.
In lieu of gifts or flowers, the family requests that donations be made to Compassion International at compassion.com/donate.
Please sign the online condolence book at burnsmortuaryhermiston.com.
Burns Mortuary of Hermiston is in care of arrangements.