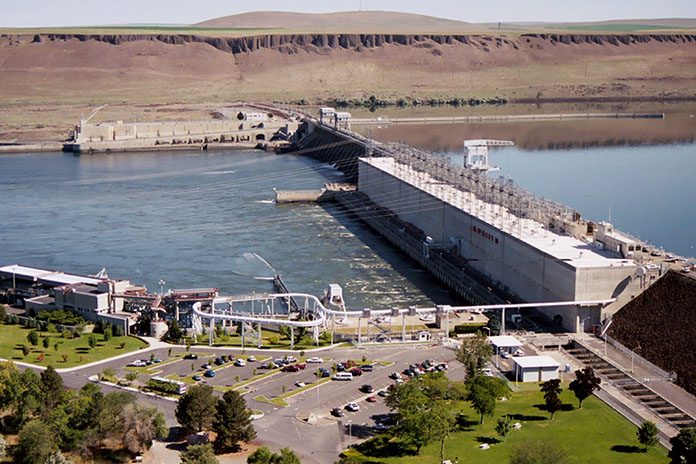 Today, the U.S. House of Representatives voted to approve H.R. 3144, which would put a temporary "time-out" on further litigation against the federal hydrosystem until an ongoing court-ordered environmental review is complete.
The bill keeps in place measures vetted by scientists in the Bush and Obama administrations that safeguard protected salmon in the Columbia and Snake rivers. A full NEPA (National Environmental Policy Act) review of the hydrosystem's impacts on salmon is underway and expected to be completed in 2021.
The bill, which passed by a vote of 225 to 189, was introduced by Reps. Greg Walden (R-Hood River), Cathy McMorris Rodgers (WA-05), Dan Newhouse (R-WA), Jaime Herrera Beutler (R-WA), and Kurt Schrader (D-OR), will protect the dams by codifying the 2014 Biological Opinion, a collaborative agreement on how to manage the river system to protect fish and support clean, renewable energy.
"Given how difficult it is to get any legislation approved by Congress, House passage of H.R. 3144 is a momentous accomplishment,"said Terry Flores, executive director of Northwest RiverPartners. "It's good news for salmon, which will continue to benefit from protections that are already working; for the environment, because the federal dams generate nearly 90% of the Northwest's carbon-free, renewable energy; and for families and businesses who need relief from rising power rates resulting from two decades of anti-dam lawsuits," she said.
Dams are among many factors — including sport, tribal and commercial harvest, hatchery practices and ocean conditions — that affect salmon survival. To protect stocks of Columbia Basin salmon and wildlife, Northwest utility ratepayers fund the largest mitigation program for endangered species in the nation. These costs make up about a third of the total cost of power that Bonneville Power Administration sells to Northwest utilities and their customers. BPA power rates have increased 30 percent in the last ten years, largely driven by hydrosystem litigation — a growing expense that customers in rural and underserved areas struggle to absorb.
Flores noted that a recent court order to spill even more water through the dams could cost Northwest families and businesses another $40 million on average each year, highlighting the need for legislation at the federal level.
"Utility customers can't afford more rate hikes while the court experiments with operating the federal hydrosystem and potentially harms young salmon migrating downstream in the process. H.R. 3144 simply puts a temporary hold on additional litigation, and the costs and uncertainty it creates, until the NEPA review of the hydrosystem is complete," Flores said.
The bill must now pass the Senate before it becomes law.