Blue Mountain Community College has been awarded a Grow Your Own (GYO) grant to develop a Teacher Pathway Partnership for future LatinX teachers.
The objective of the GYO project is to work toward closing the demographic divide between students and teachers. The GYO Teacher Pathway focuses on retaining community members interested in becoming teachers from diverse populations to teach in their local communities. Communities partnering with this grant are from Stanfield, Boardman, and Milton-Freewater.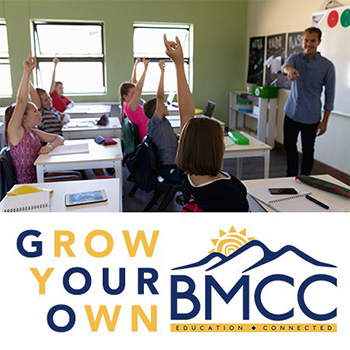 With the grant money, BMCC will conduct a three-day virtual workshop, May 14-16, called the 2-Teach Institute. BMCC has partnered with local high schools to recruit students for this pathway. Participants will be introduced to the field of education, as well as foster teaching practices in alignment with the Oregon Department of Education's Equity Initiatives. Students will also have the opportunity to network with faculty from the Education Program at BMCC and learn more about how to continue their educational path at BMCC.
"Through this opportunity, we will be able to remove barriers for students who are interested in pursuing a degree in the field of education," said Tammy Short, director of Early childhood Education and Education.
The BMCC 2-Teach Institute is free to participants, with a limited seat capacity of 25. Participants will also receive a laptop and other distance learning tools. Upon successful completion, participants will receive three BMCC credits. This will help remove barriers for students seeking an education. It will provide an opportunity to take the next step of achieving an academic goal toward teaching and motivation to move forward in the pathway as a future educator in rural Oregon communities.
For more information or if you are interested in attending, visit bluecc.edu/Education or contact Short at (541) 278-5941 or at tshort@bluecc.edu.