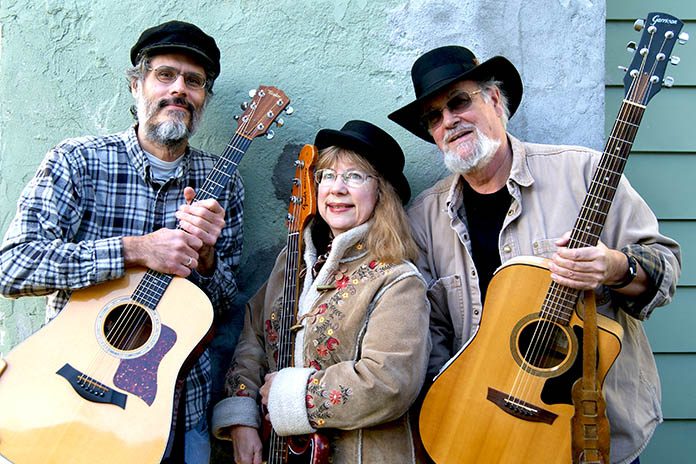 Bluegrass band Cosmo's Dream will perform for Music in the Parks outdoor summer concert series this evening at the Boardman Marina Park at 7 p.m., located off of N. Main Street on Marine Drive.
Americana trio Cosmo's Dream sings original tales of foggy-mountain megamalls, trailer-park guns and guitars, big black cats, Iditarod sled dogs, rising rivers, grandmas online, dark days ahead, beautiful beer, and Superman's dilemma. This Tacoma-based trio, which features Gen Obata on flatpick guitar and mandolin, Steve Nebel on guitar, and Kristi Nebel on bass, blends acoustic musicianship with solo vocals and three-part harmonies.
The Music in the Parks concert series is held each summer alternating between Boardman and Irrigon Marina Parks. The concerts are free to the public and begin at 7 p.m. on Mondays through Aug. 12. Visitors are encouraged to bring chairs and blankets. Concessions will be available for purchase at the Boardman events, courtesy of the Boardman Little League. The Music in the Parks series is funded by the Morrow County Unified Recreation District and Portland General Electric and sponsored by the North Morrow Community Foundation.
Additional dates and performers during the season include the Latino band Fonozis on July 29; bluegrass trio Cosmo's Dream is in Boardman on Aug. 5 and in Irrigon on Aug. 12 is country performer Cale Moon.
In the event of inclement weather, Boardman performances will be held at the SAGE Center and Irrigon performances will be held at the Irrigon Senior Center.
For more information about the Music in the Parks concert series, contact Jackie at 541-720-1289.