Boardman residents are a hardy bunch, especially when it comes to honoring their own.
Despite the freezing temperature and piles of snow, around 100 people turned out for the 24th annual Boardman Chamber of Commerce Citizen Awards Banquet Friday night at the Port of Morrow Riverfront Center.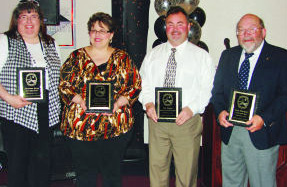 Ray Michael was named Citizen of the Year at the event. Michael, 73, is a former city council member and former longtime owner of the Boardman Pharmacy & Hardware. Michael is a member of the board of directors for the Boardman Park & Recreation District.
The Fire & Safety Award winner Friday night was Suzanne Gray of the Boardman Rural Fire and Protection District. Gray's service includes helping form the Fire Corps which helps the fire department with firefighter rehabilitation, public education and administrative support. She also organized a door-to-door smoke detector campaign. She is also involved in community events such as the Fourth of July celebration and Cinco de Mayo.
Joe Taylor of Double T Farming was given the Business Person of the Year award. Taylor, a former Port of Morrow commissioner, has served as chairman of the city's trick-or-treat event each October and has served as treasurer of the Good Shepherd Lutheran Church.
The Educator of the Year Award was given to Betsy Shane, who teaches math at Riverside Junior-Senior High School. Shane designed the curriculum for the school's after-school math programs and is currently coordinating state testing for the school.
The Pioneer Award went to Boardman City Manager Karen Pettigrew. To be eligible, residents need to have lived in Boardman for at least 40 years. Pettigrew is also a former Citizen of the Year, having won the award in 2001.