Boardman Police Chief Rick Stokoe has new title – assistant city manager.
City Manager Karen Pettigrew hired Stokoe to oversee the city's internal and external services functions, including Finance, Information Technology, Development Services, Public Work and Utilities, Public Safety and the Human Resources departments.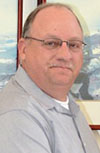 The addition of Stokoe as assistant city manager is part of an organizational restructuring that will bring additional executive capacity to the city's leadership team as community needs and service demands evolve.
Stokoe will continue to serve as police chief for the city of Boardman, and has more than 18 years of leadership experience, including 18 years of budget development, control and 18 years of human resources management knowledge.
"Rick is going to bring a wealth of valuable experience and perspective at a critical time as our city government adapts and responds to new public service challenges and opportunities, and evolving work environments," Pettigrew said.
Stokoe's selection for the new assistant city manager post follows a competitive nationwide executive search and recruitment.
"I consider it an honor and privilege to continue to contribute to making Boardman an even stronger, safer, better place to live, work and play for all residents, business owners and visitors," he said.
For a period of time Stokoe will continue to fill both roles as the police chief and assistant city manager. As the current city manager nears retirement, Stokoe, who has filled in as city manager a few times, will assist in the transition. Stokoe and his family have resided in Boardman for the last 11 years and have been an active part of the Boardman community.
Stokoe started his new position Wednesday, Jan. 5.