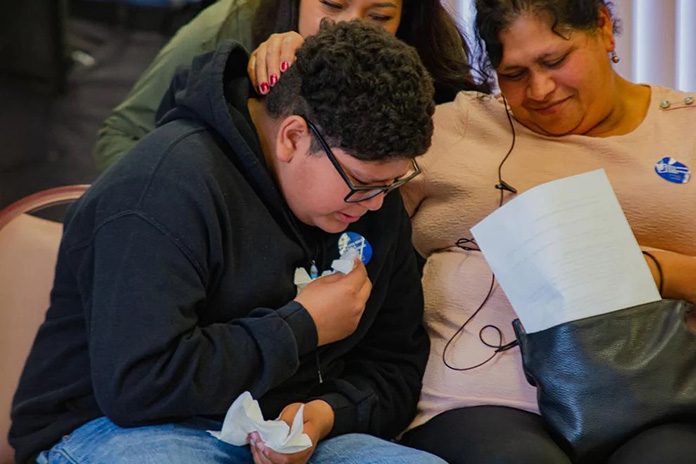 For months, the residents of Boardman have been asking Gov. Tina Kotek to visit their city and hear first-hand how contaminated water from their wells has upended their lives and put their health at risk.
On Wednesday, they got their wish as Kotek and her staff spent several hours touring Boardman and talking to residents.
"We're in this together and we have to fix this," she said during a community forum held at the Boardman Senior Center.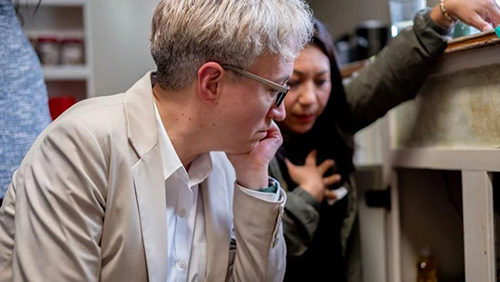 About three dozen people showed up – each with a story to tell. Several of them told of losing friends and family members to cancer, kidney failure and other mysterious illnesses.
"We can't prove it was caused by the water, but they've been drinking it for 30 years," said Mike Pearson. "I'd like to see my grandkids be able to drink water."
The water has been contaminated with high levels of nitrates for decades. In 1990, the Oregon Department of Environmental Quality designated the Lower Umatilla Basin Groundwater Area for high nitrate levels.
According to the Environmental Protection Agency, water with more than 10 milligrams of nitrates per liter is considered unsafe to drink. Everyone at Wednesday's forum who spoke indicated testing shows the nitrate levels to be far beyond that 10 mg/L level.
Pearson said a recent test of his well showed that figure to be 46.8.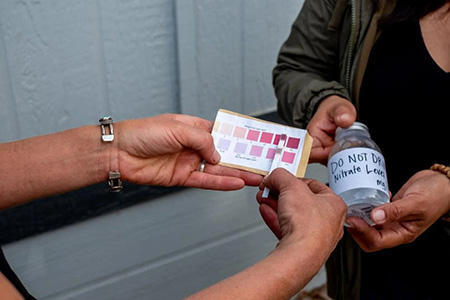 Prior to the community forum, Kotek visited the home of Boardman resident Ana Maria Rodriguez, who performed a test of her well water right in front of the governor. She dipped a test strip into the water and within seconds it showed nitrate levels nearly five times above what is considered safe.
Glenda Bahler has lived in Boardman since 2005. She said it's not just people who are suffering, but animals, as well.
"I've had healthy 3- and 4-year-old horses who have died without explanation," she said. "Several of our dogs have died."
She worries about her grandkids drinking water out of the hoses in the summer. The issue has also impacted property values, she said.
"We couldn't sell our house if we wanted to," Bahler told the governor. "No bank would give you a loan for property if you can't drink the water."
Pearson said the people of Boardman need help and need it now.
"As your governor, I'm going to make sure you are heard and we are working with you to get you what you need," she said.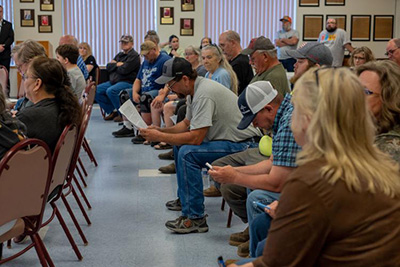 What is needed won't come cheap. Kotek has asked the Legislature for $6.2 million to address the issue. That budget includes $3 million to pay for public outreach, domestic well testing and water treatment systems for affected households, and $2 million to provide safe drinking water for those who need it. Another $1.2 million will go to boost staffing at the Department of Environmental Quality.
There have been estimates, however, that testing all the 4,500 private wells will cost $3 million alone.
When asked if $3 million would cover the cost of testing all wells, Kotek said she didn't have an answer.
"But if we don't have enough resources to test all wells, we'll get more," she said.
To date, only about 600 of the wells have been tested.
Kotek said there are short-term and long-term issues to address. Getting wells tested and providing safe drinking water is only a short-term fix. Ultimately, the source of contamination needs to be addressed.
The nitrates come from several sources – primarily wastewater from the Port of Morrow, and fertilizer used on agricultural fields. The Port has been fined more than $2 million for pouring excess nitrate-laden wastewater over farm fields in the area for years.
"The Port is working on reducing pollutants into the water," Kotek said. "But the short-term is really important, too."
Testing wells is a critical step, but it's going slowly. Test strips are available on Amazon, but many in Boardman do not have internet connection.
Providing safe water to those who need it is another step, but there isn't enough safe water to go around. Kristin Ostrom, executive director of Rural Oregon Action, said free water is delivered to only about 150 families in the Boardman area. But even those who get free water deliveries say it doesn't go very far.
Boardman resident Joe Rupe said his family gets 5 gallons of water delivered to his home every two weeks.
"That's not even close to enough," he said. Rupe said he buys drinking water and has installed a water filter as well as water softener pellets to treat his water.
"That's all money out of our own pockets," he said.
Paulo Lopez was the youngest resident to speak on Wednesday. He fought back tears as his emotions overcame him. At one point, Kotek walked over to him, put her arm around him and whispered in his ear.
The 12-year-old gathered himself and talked about how his grandfather died and his grandmother got sick from drinking the water which typically tests at around 40.9. He and his family asked the governor to make sure the water is safe.
"That's my job to make that happen," she said.
Kotek said the state has hired an epidemiologist to see if there is a direct connection between the contaminated water and the health issues facing many Boardman residents.
"We need to find out if the health issues are caused by the water," she said. "But we're going to need your help and your willingness to provide us with your health histories. We have to do this together."
Raymond Akers read a long letter outlining his anger and frustrations.
"There is a huge lack of trust between the people here and the current Port of Morrow commissioners as well as the state of Oregon," he told Kotek. Akers said what Kotek is proposing is far from adequate.
"This is just the start," Kotek said. "The money I'm asking for is just where we are now. It's a first step."
Despite his frustration, Akers, along with nearly everyone who spoke on Wednesday, thanked the governor for making the time to visit and listen to them and said they hope this isn't just a one-time visit.
"Don't worry," she said. "This won't be the last time I'm here."