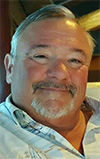 Robert W. "Bob" Brinkley Jr., longtime resident of Hermiston, died on Oct. 23, 2019 near North Powder at the age of 62.
He was born on July 19, 1957 in Torrance, Calif.
Bob opened Columbia Auto Body 36 years ago. He obtained his business degree in auto body repair at Treasure Valley College in Ontario, where he also played college football. Bob was a smart, dedicated, successful business man who was always willing to help others. Bob was very generous to his family, friends and his community. Bob seemed to some to be a little rough around the edges at times, but he had a heart of gold. Bob had a very private relationship with his God and always said that being in the mountains was where he felt his presence the most.
Bob was an athlete in his day. He felt it was important to support his community, and that he did. Back in the early days he sponsored American Legion Baseball, men's bowling leagues, Hermiston Little League, and Grid Kids football. He always sponsored his buddies and young men in the community, making sure they had a basketball or softball team to play on. He was proud to make that happen.
Over the years Bob also put on annual fishing derbies during the winter holidays, Thanksgiving, Christmas and New Year's. He made sure that on long, cold, winter days his relatives, friends and anyone who wanted to participate had a chance to win some big bucks by catching the biggest fish. He loved seeing people have a good time.
For the past 15 years, Bob's love of golf led him to put his heart into making sure that the Hermiston High School golf program did not lose its steam. He said, "We have got to do something here to make this program stay alive for these kids." That's when the tide changed for the Hermiston High School golf program. Bob rallied parents, fellow golfers and the athletic director together and said, "We need fundraisers for this program. Why not put on tournaments?" With Bob's vision, the first annual Turkey Shoot Golf Tournament began. The Turkey Shoot Golf Tournament is now in its 15th year. In memory of Bob, the tournament will now be the Bob Brinkley Memorial Turkey Shoot Golf Tournament.
Bob loved anything that had to do with being outdoors – hunting, fishing, camping and golfing with family and friends. For the past several years he fell in love with sprint boat racing. Years back, one of Bob's best friends, Rodney Cox and his son Robbie built a sprint boat that has the only Ford racing engine in the U.S. Bob was hooked. He decided he wanted to be a part of Obsession 049's team. Bob became a dedicated sponsor partly due to the speed of the boats, but mainly because of the love he had for the team's family.
Bob made relationships with many people. He had that gift. Bob gave out of the kindness of his heart. He was loved by his family and friends and will be sorrowfully missed.
Bob leaves behind the love of his life, his wife, Karla Johnson Brinkley of Hermiston; his sons, Steven Brinkley of Hermiston and his wife Angalena, Taylor Johnson of Spokane, Wash. and Aaron Johnson of Hermiston; four wonderful grandchildren, Garret, Kaylee and D' Laynee Brinkley, and Braven Johnson, all of Hermiston; his father, Wayne Brinkley of Libby, Mont.; his two siblings, James Brinkley of Prineville and sister-in-law Kathy, and Joseph Brinkley of Terrebonne and his sister-in-law Wendy; and many aunts, uncles, nieces, nephews and cousins that meant the world to him.
Bob was preceded in death by his mother, Patricia Wilson Brinkley of Fossil.
In honor of Bob, there will be a celebration of his life on Saturday, Nov. 30, 2019 from 2 to 7 p.m. at Skip and Sherry Walchli's farm, 32697 E. Loop Road, Hermiston.
Please share memories of Bob with his family at burnsmortuaryhermiston.com.
Burns Mortuary of Hermiston is in care of arrangements.